Red Mountain Spa Sonoran Fish Tacos
These delicious Sonoran Fish Tacos are courtesy of Red Mountain Resort in Utah.  They are in the Sonoran Style, which in this case means a soft corn tortilla, not fried, and milder flavors. The Mexican State of Sonora shares a border with Arizona, and unlike the corn-tortilla based favorite recipes in Mexico, Sonoran Style tacos are usually soft, often in a flour tortilla, and tend to have green sauces and less heat. Here, Red Mountain keeps the corn tortilla, but features the traditional soft style and tasty green avocado sauce.
Red Mountain Sonoran Fish Tacos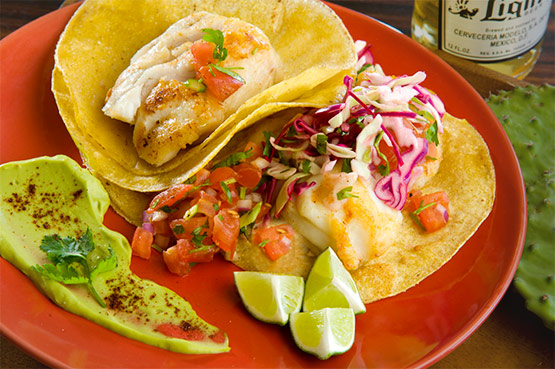 Ingredients
1/4 cup avocado crema
1 cup pico de gallo
2 tablespoons lime juice, fresh squeezed (about one average sized lime)
1/2 cup red cabbage thinly shredded
1 pound mahi mahi or other mild white fish
4 teaspoons chopped cilantro
1 pinch kosher salt
1 pinch freshly ground black pepper
8 each corn tortillas (about 6 inches)
Method
In a small mixing bowl, combine cabbage, fresh squeezed lime juice and cilantro. Mix well and allow to sit at room temperature while you complete the rest of the preparation.
Portion the fish into 8 equal pieces. Season lightly on both sides with salt and pepper.
Preheat an oven safe sauté pan (stainless steel, no plastic handle) on high heat until fully heated; preheat oven to 450F.
Add just enough canola, olive or avocado oil to the pan to lightly coat the bottom, then carefully place the fish in the pan and sauté for about two minutes per side, then place the whole sauté pan in the pre-heated oven and bake until cooked through , 8-10 minutes. Remove fish from oven and let it rest for 2-3 minutes.
Warm corn tortillas over an open flame or in a sauté pan to soften, then lay two overlapping side by side on each plate; place a piece of fish in the center of each tortilla, and top with the cilantro lime cabbage mixture.
Garnish with lime wedges and serve with black beans, fresh pico de gallo, and avocado crema.
Notes
Avocado Crema
Puree the flesh of 1 whole avocado in food processor until smooth. Add 1/4 cup light mayo and blend until fully incorporated. Serving size is one tablespoon.
By the Numbers
Serving size:
1/4 recipe
| Cal:
346
| Fat (g):
3
| Carbs (g):
44
| Fiber (g):
7
| Protein (g):
36
---
Few places on earth match the beauty and tranquility of the red rocks surrounding St. George, Utah. Red Mountain Resort is the perfect setting to start or renew your health and fitness goals.   Our programs  include a wide variety of fitness assessments and tools to meet your goals. However you choose to spend your time at Red Mountain, the peace and solitude of the facility, daily fitness activities, guided hiking, healthy gourmet cuisine and an array of wellness classes will set you on the path to lifelong fitness and health.

 

July 27, 2016 | Spa Index Red Mountain Spa Recipes, Seafood