Red Mountain Spa Grilled Veggie Rolls
Grilled Veggie Rolls are a vegetarian spin on an enchilada, making use of savory vegetables, including eggplant and mushrooms, and with the addition of soy cheese (or use dairy if you prefer) and marinara sauce.  This is a healthy, hearty and savory entree for any season.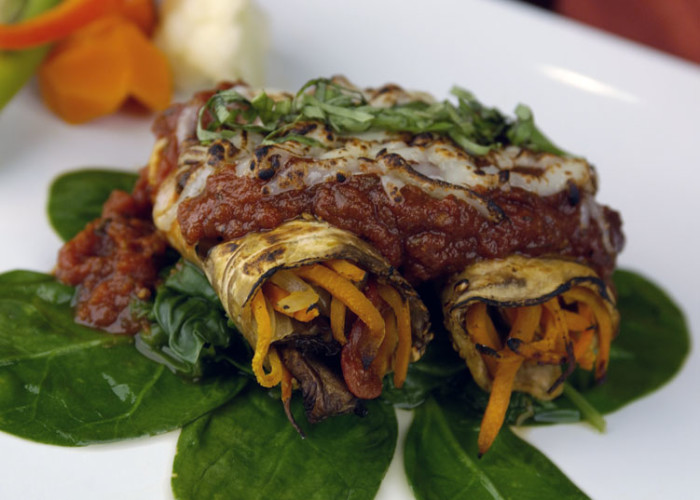 Ingredients
2 large eggplants, peeled & sliced 1/2" thick lengthwise
2 medium 4 red bell peppers, julienne
1 medium red onion, julienne
1 cup carrots, julienne
1/2 cup portabello mushrooms, julienned
1 teaspoon garlic, minced
8 oz. fresh spinach
2 cups marinara sauce
6 oz. lite mozzarella cheese or cheese substitute (such as soy kaas)
Olive oil
Salt and pepper to taste
Method
Lightly spray eggplant slices with olive oil.
Place on hot broiler until eggplant is soft enough to roll without tearing.
Sauté the mushrooms, bell peppers, onions, carrots, celery, and garlic until just tender.
Add spinach long enough to wilt.
Remove from heat and place in mixing bowl.
Toss in 2 to 3 tablespoons of pasta sauce and shredded soy cheese.
Place some of mixture on each eggplant slice and roll.
Place eggplant rolls in lightly oiled sauté pan.
Top with marinara sauce and small amount of shredded cheese.
Bake in oven until hot through.
By the Numbers
Serving size:
2
| Cal:
180
| Fat (g):
7g
| Carbs (g):
18g
| Fiber (g):
5g
| Protein (g):
11g
---
Whether your goal is weight loss, improved athletic performance, stress relief, increased energy or simply trying something new, Red Mountain Resort offers an extensive range of enjoyable yet highly effective programs, fitness classes and workshops for all ages and abilities. Our fitness professionals can also create a customized program that assesses and addresses your specific needs.
---
March 4, 2015 | Kitchens Spa Index Red Mountain Spa Recipes