Raspberry Custard Brulee
Talk about the most useless but popular present for the holidays, and cooking enthusiasts might tell you about the kitchen torch (or torches J) they received from well-meaning friends. Just how often is anyone really going to use it? If you're wondering whether you should have sent it right back to the store for a refund, try this simple but elegant "Brulée" recipe to impress your family and friends. It's a light and tasty raspberry custard topped with a caramelized sugar glaze – an impressive Valentine's dessert.   Also, put that torch to good use flaming your breakfast grapefruit.  That's a winner, too!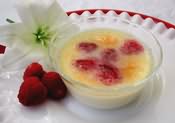 Ingredients
2 cups fat-free (skim) milk
3 eggs, slightly beaten
½ cup sugar
1 teaspoon raspberry liquor
½ teaspoon vanilla
6-ounce container fresh raspberries
6 teaspoons sugar (for topping)
Method
Preheat oven to 325°F (or 300°F for convection oven).
In microwave or small saucepan, heat milk until it begins to steam.
Meanwhile, in a medium bowl, blend eggs, ½ cup sugar and flavorings.
Gradually add milk to egg mixture, stirring constantly.
Place about 5 fresh raspberries into each individual (6-ounce) custard cup.
Pour egg mixture into custard cups. Set custard cups in a deep pan.
Pour hot water into pan to within ½ inch of the top of the custard cups.
Bake until custard is just set, about 40-45 minutes (or until a knife inserted in the center of the custard comes out clean).
If using a convection oven, bake about 35-40 minutes.
Cool immediately.
Custards can be stored in the refrigerator overnight.
When ready to serve, sprinkle about 1 teaspoon of sugar on each custard, and using a kitchen torch, caramelize the sugar following torch instructions.
If using the broiler method, set custards under the broiler about 4 to 5 inches from the heat and broil about 2 minutes, watching carefully so they don't burn.
To serve, set custard cups on small plates and garnish with the remaining raspberries.
Notes
For a creamier texture, replace 2 tablespoons of skim milk with 2 tablespoons of half and half. This small amount adds a bit more fat but provides a richer texture.
---
March 28, 2011 | Kitchens Spa Index Green Mountain at Fox Run