Raspberry Banana Chia Seed Protein Blast
If you have an activity filled day ahead and you need a good start, or the heat gets you beat and you need an afternoon pick-me-up after a work-out, try this protein filled Raspberry Banana Chia Seed Protein Blast which guests of Red Mountain Resort in Utah enjoy.  Bright, thick, creamy and sharp!
Raspberry Banana Chia Seed Protein Blast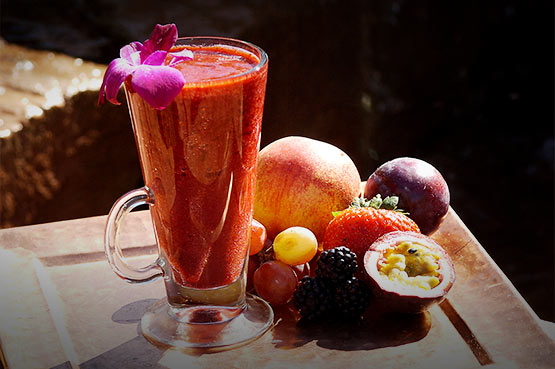 Ingredients
2 cups plain yogurt
4 teaspoons Chia seeds
2 cups frozen raspberries
1/4 cup whey protein powder
2 bananas, peeled
Method
Scoop yogurt into the blender first for easier pureeing.
Add in remaining ingredients and blend until smooth; scrape sides of the blender to make sure all powder is incorporated into the recipe.
Pour into a glass and enjoy.
By the Numbers
Serving size:
1
| Cal:
443
| Fat (g):
11
| Carbs (g):
57
| Fiber (g):
13
| Protein (g):
32
---
Few places on earth match the beauty and tranquility of the red rocks surrounding St. George, Utah. Red Mountain Resort is the perfect setting to start or renew your health and fitness goals.   Our programs  include a wide variety of fitness assessments and tools to meet your goals. However you choose to spend your time at Red Mountain, the peace and solitude of the facility, daily fitness activities, guided hiking, healthy gourmet cuisine and an array of wellness classes will set you on the path to lifelong fitness and health.
---
May 16, 2015 | Spa Index Favorites, Red Mountain Spa Recipes