Quinoa Walnut Brownies
One seldom needs an excuse for chocolate, but with Valentine's Day around the corner, these Rancho La Puerta Spa Quinoa Walnut Brownies are a tasty, hand-crafted, chocolatey, and gluten free bit of deliciousness for your favorite Valentine.
Quinoa Walnut Brownies
Chocolatey, gluten free deliciousness!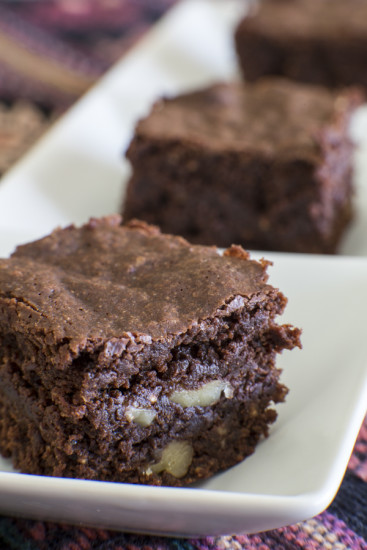 Ingredients
1/2 cup beige quinoa
1/4 cup quinoa flour
1/2 teaspoon salt
1/2 teaspoon baking powder
2 ounces unsweetened chocolate, chopped roughly
4 ounces bittersweet chocolate, chopped roughly
6 tablespoons butter, cut into 6 pieces
1 cup granulated sugar
2 teaspoons vanilla extract
2 eggs, beaten lightly
1/1 cup unsalted walnuts, chopped roughly
Optional Additions for a flavorful twist:
1 tablespoon hemp seeds
1/8 teaspoon chili powder
1 tablespoon cinnamon
Method
Preheat the oven to 325°F.
Grease an 8- or 9-inch square baking pan and line with parchment paper with a few inches of overhang. Grind the quinoa (and optional hemp seed) in a coffee or spice grinder until it becomes powdery, like flour. Transfer ground quinoa to a small bowl and stir in flour, salt and baking powder. If extra spice is desired, add the chili powder and cinnamon.
Melt all the chocolate and butter together in a double boiler. The chocolate will take on a glossy sheen as it melts. Gently scrape the sides of the bowl with a heatproof spatula, and stir the mixture. It will be shiny and smooth when it is completely melted.
Remove the bowl from heat and whisk in sugar and vanilla. One at a time, add the eggs. Using a wooden spoon or a flexible spatula, stir in the beige quinoa and the quinoa flour mixture until well incorporated. Stir in the walnuts. Spread the batter into the prepared pan and place it on the middle rack of the oven.
Bake for 35 minutes, or until a toothpick inserted into the center comes with only a small amount of batter on it. Do not over-bake.
Transfer the pan to a rack and allow the brownies to cool completely before removing them. Slice and enjoy! This should make 16 bite sized servings.
About:
Rancho La Puerta Destination Spa has been welcoming guests for more than 70 years, in Baja, Mexico.  Rancho La Puerta translated means "Ranch of the Door."  A Ranch vacation invites you to "open your door" to a healthier, more balanced life. 
---
February 11, 2016 | Spa Index Rancho La Puerta