Quick Huevos Rancheros
Huevos Rancheros  — or "Ranch Eggs" — is a popular breakfast of eggs and tortillas.   Savory egg dishes such as this one are typically served in Mexico at "almuezo"  — the second breakfast served to hard-working ranch hands and farm workers after their early-morning chores — they need to build more energy after a morning of hard work.  The most basic version of huevos rancheros consists of fried corn tortillas, topped with scrambled or fried eggs, and a tomato–chili sauce or salsa.   Common toppings include refried beans, avocado, chili peppers, and even fried potatoes.
While this can be a high-fat entree, it doesn't have to be, and best of all, it is nutritionally balanced and nutrient dense. 
Huevos Rancheros don't have to take a long time to prepare. Try this easy-to-prepare version for a breakfast treat you can make on a work day.  You will note it doesn't have the fried corn tortilla which is customary in Huevos Rancheros.  This savory, quick and healthy breakfast  doesn't need the tortilla, and you won't even miss it.  If you feel it just isn't Huevos Rancheros without it, try it with a baked corn tortilla, or baked no-oil corn tortilla or pita chips, rather than a fried tortilla.  That way, you'll keep the fiber of the corn but lose the fat.
Read this post contributed by Dr. Dae, who explains the benefits of Huevos Rancheros for breakfast.

.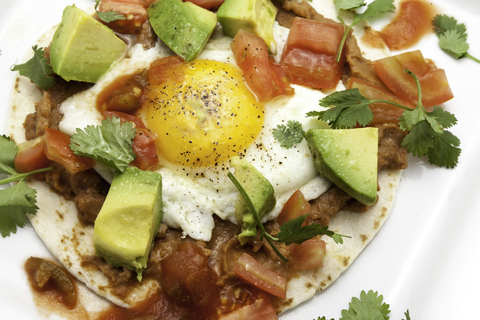 Courtesy of:
Adapted from World's Healthiest Foods
Recipes:
Breakfast, Entrees
Ingredients
2 omega-3-rich eggs
1/2 can beans, drained and mashed
1 tablespoon extra virgin olive oil
1 teaspoon lemon juice
sea salt and pepper, to taste
1/2 avocado, sliced
Fresh deli salsa, to taste
Optional: 4 tablespoons grated low-fat cheddar cheese
Optional: Fat Free Tortilla or split Whole Wheat Pita, toasted
Optional: cayenne pepper
chopped cilantro, to taste
Method
Poach or steam fry the eggs
Warm the beans in a skillet while eggs are cooking
Remove beans from heat and mix in olive oil, lemon juice, salt and pepper Add a pinch of cayenne for spicy beans.
Place warmed or toasted tortilla or pita half on a plate (if using)
Place beans on tortilla (or plate), top with salsa, an egg, diced avocado, cheese (if using) and cilantro.
Notes
Don't want to take the time to poach eggs? Not a fan of runny yolks? This recipe is just as delicious with softly scrambled eggs.
By the Numbers
Serving size:
1
| Cal:
392
| Fat (g):
16
| Sat Fat (g):
3.6
| Sodium (mg):
670
| Fiber (g):
11
| Protein (g):
21
| Chol (mg):
189
---
 

September 13, 2013 | Kitchens Spa Index Favorites