Pritikin Spicy Seafood Soup
The healthiest animal food choices are omega-3-rich fish such as salmon, sardines, herring, mackerel, and trout, advises the Pritikin Eating Plan. Most other fish, plus shelled mollusks like clams and scallops, are healthy choices, too.  The award-winning chefs at Pritikin are masters at showing people how delicious healthy eating can be, and this Spicy Seafood Soup is always a hit in the dining room at the Pritikin Longevity Center. Cook up a big batch on the weekend and enjoy all week long.  This soup freezes beautifully, too.
Pritikin Spicy Seafood Soup
Yes, it takes a long time to simmer and make this delicious soup, but it's well worth it. Shrimp, scallops, fennel, garlic, chipotle, and more make this Spicy Seafood Soup a fantastic meal in a bowl. Makes 8 (1 cup each) servings.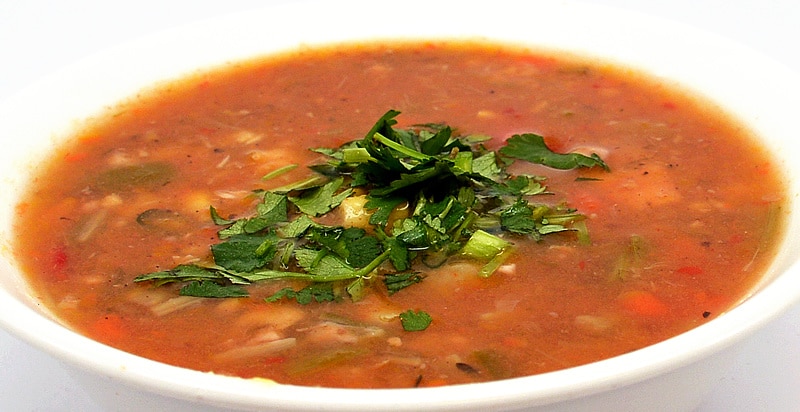 Prep time:
Cook time:
Total time:
Ingredients
1 pound shrimp shells (see note)
1 gallon water
1 carrot diced
1 onion Vidalia, diced
3 stalks celery diced
1 fennel bulb cored, diced
1/2 cup okra diced
2 tablespoons garlic chopped
1/4 cup tomato puree no salt added
1 bay leaf
3 tablespoons thyme fresh, chopped
1 chipotle pepper whole
1 teaspoon oregano dry
1/2 pound scallops diced
1 pound white fish diced (good choices: halibut, sea bass or tilapia)
1 tablespoon Pritikin Fish Seasoning or any salt-free fish seasoning
1 teaspoon crushed red pepper flakes
1/2 pound shrimp diced
1 cup whole baby clams, low sodium
black peppercorns freshly ground, to taste
1/2 bunch fresh cilantro leaves chopped
Method
For your stock, simmer shrimp shells (feel free to also add carrot peels, celery leaves, fennel greens, and onion skins -- for more flavor) in 1 gallon water for 2 hours.
Strain and reserve stock.
In a large stockpot, add carrots, onions, celery, fennel, and okra, and cook on medium-low heat until onions are translucent, about 5 minutes.
Add shrimp stock, garlic, tomato puree, bay leaf, thyme, chipotle, and oregano. Simmer for 2 hours.
Add scallops, white fish, Pritikin Fish Seasoning, and red pepper flakes, and simmer for 1 hour more, breaking fish with back of spoon.
In last 5 to 10 minutes of cooking, add shrimp, clams, and black pepper. Simmer till shrimp and clams are cooked.
Remove chipotle and bay leaf. Garnish with cilantro. Serve.
By the Numbers
Serving size:
1
| Cal:
50
| Sodium (mg):
70
| Fiber (g):
2
| Protein (g):
4
| Chol (mg):
75
---
ABOUT PRITIKIN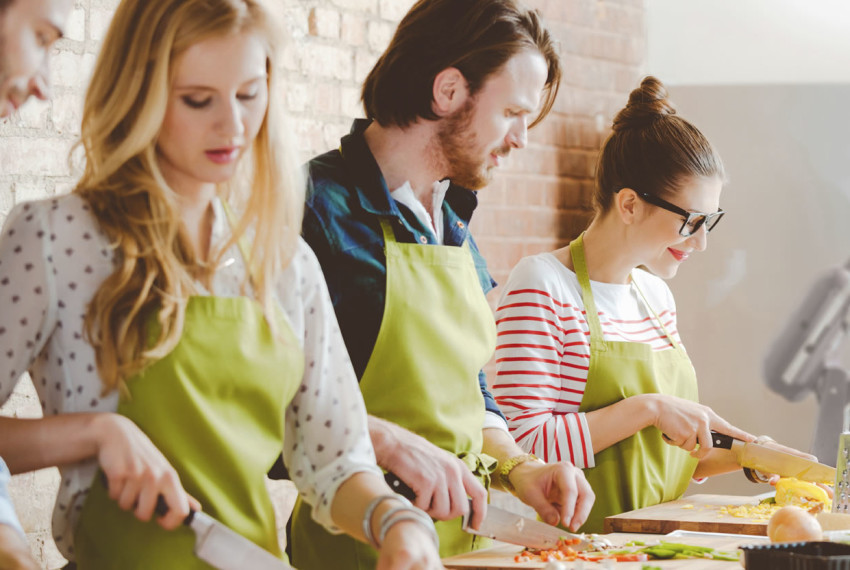 The Pritikin Eating Plan is proven in more than 100 peer-reviewed studies to have life-saving benefits like lowering cholesterol and blood pressure. Plus, you aren't losing your mind while losing weight. There's no calorie counting, no hunger. Just plenty of healthy, whole foods deliciously prepared, like the recipes shared with Spa Index.   Pritikin was the first comprehensive lifestyle program in America, and after 39 years on the cutting edge of lifestyle science, we are still the longest-running, most successful program for reversing many of modern society's health concerns, including obesity, heart disease, high blood pressure, and diabetes.   More than 100,000 people worldwide have come to Pritikin Longevity Center, in Miami Florida, for one-week programs, two-week programs, or longer. For some, the primary goal is losing weight. Others want to prevent and address health issues. Still others seek the ultimate spa-health vacation. Everyone leaves feeling better and, best of all – living better.
---
 

November 1, 2017 | Spa Index Bariatric, Favorites, Miami, Pritikin, Seafood, Weight Loss