Pritikin Mustard Glazed Salmon
So simple but so gourmet! This Mustard Glazed Salmon entree can be either a weeknight dish that makes you feel it's the weekend, or, a special meal for Mother's Day or a Birthday Celebration! Serve with a quick-and-easy whole grain like quinoa or couscous, or a microwaved baked potato, plus a nice big green salad.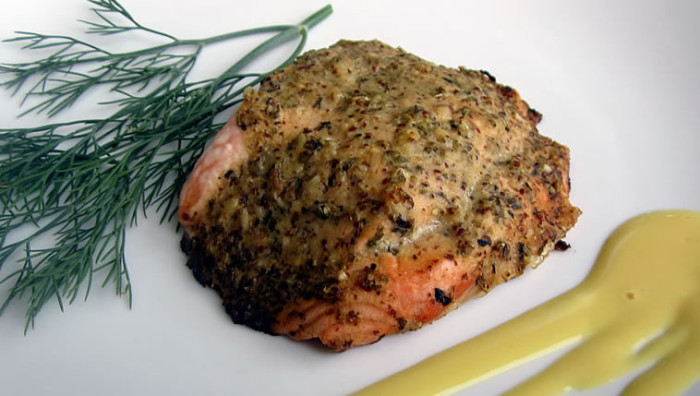 Prep time:
Cook time:
Total time:
Ingredients
2 tablespoons mustard stone-ground, no-salt-added
1 tablespoon mustard Dijon, no-salt-added
1 teaspoon garlic finely chopped
1 teaspoon shallots or onions, finely chopped
2 tablespoons wine white
1 pound salmon preferably wild, and divided into 4 servings
2 tablespoons dill fresh, chopped
Method
In a small bowl, combine mustards, garlic, shallots, and wine.
Evenly coat one side of salmon fillets with half of mustard mixture. In a large medium-hot nonstick skillet, cook salmon mustard side up for 7 minutes.
Flip salmon; spread the reserved mixture on top, and cover, cooking over medium heat until done to your liking.
Sprinkle with fresh dill and serve.
---
The Pritikin Program promotes weight loss but also enhances health, and powerfully so.  A stay at our all-inclusive weight loss resort, Pritikin Longevity Center in Florida, will change your life. Lose weight, get fit and return home with the tools needed to live a healthier life.
---
May 8, 2015 | Spa Index Favorites, Miami, Pritikin, Seafood, Weight Loss