Pritikin Berry Balsamic Glazed Salmon
This beautiful entree looks impressive, no?  It's so simple to create both from fresh salmon and berries, or even a frozen fillet and a bag of frozen berries you keep on hand! This Berry Balsamic Glazed Salmon is both an elegant dinner or a wonderful lunch entree for a spa day.   Serve it with a tangle wilted spinach, which pairs well with both the berries and the balsamic flavors.  Another tip? Save the leftovers and toss the fish and glaze over fresh baby spinach leaves for a berry balsamic salmon salad.
Berry Balsamic Glazed Salmon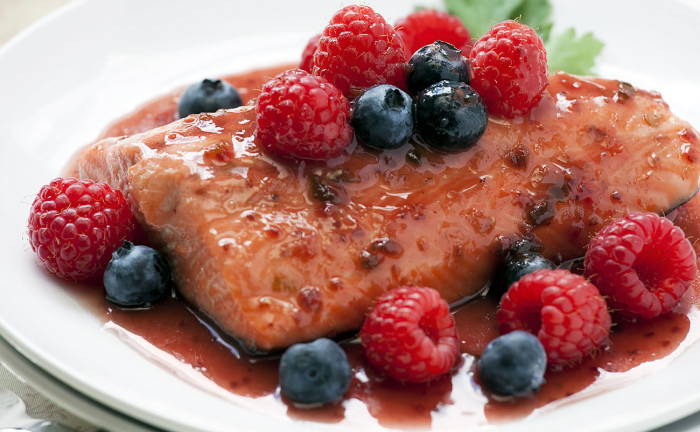 Prep time:
Cook time:
Total time:
Ingredients
1 pound salmon preferably wild, and divided into 4 servings
1/4 cup balsamic vinegar
1 cup fresh or frozen berries
Method
Pan fry, broil or grill your salmon fillets until done to your liking.
In a saucepan on the stove or on the grill, bring the vinegar to a boil
Add 1 cup of fresh or thawed berries
Reduce heat and stir regularly until reduced by half.
Ladle over your salmon. If you'd like, top with a few fresh or whole berries
Notes
Once you've made this,you'll realize how adaptable this recipe is. Serve it over trout, scallops, or turkey and chicken! We've doctored the sauce with shallots and garlic as well, but this simple three ingredient recipe is fine on its own.
---
The Pritikin Program promotes weight loss but also enhances health, and powerfully so.  A stay at our all-inclusive weight loss resort, Pritikin Longevity Center in Florida, will change your life. Lose weight, get fit and return home with the tools needed to live a healthier life.
---
May 16, 2015 | Spa Index Favorites, Miami, Pritikin, Seafood, Weight Loss