Grilled Salmon Salad with Pomegranate and Walnut Vinaigrette
Pomegranates have been cherished for their exquisite beauty, flavor, color, and health benefits for centuries. From their distinctive crown to their ruby red arils, pomegranates are royalty amongst fruit. They are symbolic of prosperity and abundance in virtually every civilization.

The name "pomegranate" derives from the Middle French "pomme garnete" – literally "seeded apple." It is also sometimes referred to as a Chinese apple. Many scholars believe that the forbidden – yet irresistible – fruit in which Eve indulged within the Garden of Eden was actually a pomegranate (and not an apple).
Pomegranates are a new superfood:  They are high in vitamin C and potassium, a great source of fiber, and low in calories.
Pomegranate juice is high in three different types of polyphenols, a potent form of antioxidants. The three types – tannins, anthocyanins, and ellagic acid – are present in many fruits, but fresh pomegranate juice contains particularly high amounts of all three.
Poms are generally available in Fall to Winter months, but many areas package and provide the arils ready to serve, including Trader Joe's.
---
POM Grilled Salmon Salad with Arils and Walnut Vinaigrette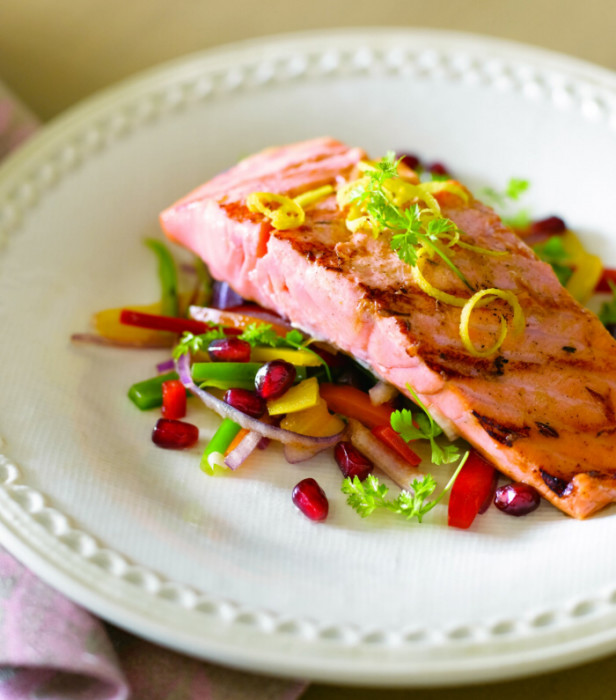 Recipes:
Entree and Salad
Ingredients
Walnut Vinaigrette:
3/4 cup pomegranate juice
1/4 cup orange juice
1/4 cup lime juice
1/4 cup water
3/4 cup walnut oil
Salad
3 cups mixed seasonal vegetables (carrots, celery, red onion, peppers, spinach, etc.)
1/2 cup pomegranate arils
Glazed Salmon
6 6-oz. wild salmon fillets
1 cup orange juice
1/2 cup lemon juice
1/2 cup lime juice
1 cup canola oil
1/4 cup jerk spice
1/2 cup Thai sweet chili sauce
Method
Make the dressing by combining the pomegranate juice with 1/4 cup each of orange juice, lime juice and water. Slowly whisk in the oil. Use to dress the veggies.
Prep the salad vegetables. Thinly slice the seasonal vegetables. Toss the vegetables with just enough vinaigrette to lightly coat. Set aside.
Prep the salmon. Combine the orange juice, lemon juice and lime juice with the canola oil, jerk spice and Thai sweet chili sauce. Mix well. Place the salmon and the glaze mixture in a casserole dish, and allow it to marinate for 2 hours prior to cooking.
Heat grill to medium-high heat. Remove the salmon from the marinade, and grill them for 4 to 5 minutes on each side.
Assemble your salad by plating vegetables on 6 dinner plates, then top them with the salmon. Drizzle some of the vinaigrette over the salmon, and garnish with fresh pomegranate arils.
Notes
SpaFlyer significantly reduced the fat and carb grams in this salad by using our own low calorie salad vinaigrette doctored with orange zest, lime zest, and just a splash of walnut oil, with very savory results. Nutrients per serving as originally written: (1 6-oz. fillet, 4 oz. salad): 432 calories (240 calories from fat), 35g protein, 27g total fat (4g saturated), 12g carbohydrates, 1g dietary fiber, 94mg cholesterol, 2295mcg beta-carotene, 7g total sugars, 20mcg vitamin A RE, 114mg sodium, 1055mg potassium, 40mg vitamin C.
---
 

With thanks to the POM Council for resource data.  Visit POM Council for more recipes.

August 5, 2017 | Spa Index Seafood