Pear Apple Honey Souffle
This was a guest favorite dessert at Hart and Hind Fitness Ranch in Texas, which is now, sadly, closed.  "Hands down, the favorite dish of the week at Hart & Hind – a vote that ensured it would become a staple – was a pear, apple, and honey soufflé. The striking dessert couldn't be easier to prepare. Organic pears and apples are peeled, cooked down, then blended into a thick puree (imagine the world's best apple sauce). The mixture is flavored with a drop of Mexican vanilla, then folded into whipped egg whites and baked. It's a revelation to discover that so few – and such lean – ingredients can create such a satisfying dessert."   — Chef Paula Disbrowe, formerly of Hart & Hind Fitness Ranch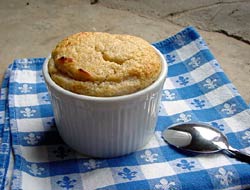 Courtesy of:
Paula Disbrowe
Ingredients
2-3 (about 1 pound) tart-sweet apples (we like pink lady), peeled, cored, and sliced
3-4 (about 1 1⁄2 pounds) ripe pears, peeled, cored, and sliced
juice of one lemon
1⁄4 cup Uvalde (or other full flavored) honey
4 dried pear halves, chopped
1 teaspoons Mexican vanilla
1 tablespoons Poire William liqueur (optional)
2 tablespoons sugar
8 large egg whites, at room temperature
1⁄4 teaspoons cream of tartar
Method
Peel and slice the fruit, letting the pieces fall directly into a bowl of water acidulated with the lemon juice.
When you're finished, drain fruit and transfer to a medium-sized saucepan. Add the honey and bring to simmer. Turn heat to low and cook, uncovered, for 20 minutes, stirring often.
Add the dried pears, and cook an additional 10 minutes. The fruit should cook down into a thick puree.
Remove from heat, stir in the vanilla and the Poire William (if desired), and cool.
Preheat oven to 425 degrees.
Puree mixture in a blender.
Lightly butter six individual soufflé dishes. Dust each dish with sugar.
Beat egg whites and cream of tartar until they form stiff (but not dry) peaks.
Stir a quarter of the beaten egg white into the fruit puree. Gently fold in the rest.
Transfer to the individual ramekins. Place on a baking sheet and bake for 12-14 minutes, until puffed and brown.
Serve immediately.
Notes
You can make the fruit puree several days in advance. We've also made this souffle with Pear Sauce available from Trader Joe's. You could also use the resealable pouches of pureed fruit available in the baby food aisle -- we love those for Greek Yogurt. They would work well here, too.
---
March 14, 2013 | Kitchens Spa Index