Peach and Rosemary Sorbet
The hearty warmth of rosemary olive oil is a stirring contrast to the bright and cheery essence of peach in this dashing Peach and Rosemary Sorbet. The aromatic rosemary is sharp and full of invigorating passion. It's warmth collides vividly with the refreshing peach sorbet, whose rosy hue offers plush sweetness. One bite will fill you with the feeling that "everything's perfect, just right, like a peach."
Prep time:
Cook time:
Total time:
Ingredients
Sorbet
2 tbsp Honey
1 whole Lemon
6 whole Peaches
1 tbsp Rosemary
Finishing Oil
1 cup olive oil
2 sprigs rosemary
Method
For the Sorbet
Chill peaches in the fridge, pit and chop. For those who prefer refined texture, peel the peaches. If you are a lover of the sensual rustic, leave the peel on for a layer of complexity.
Juice the lemon.
Add peaches, lemon juice, honey and 3/4 cup of water to your blender.
Puree until whipped and smooth.
If you have an ice cream maker, pour peach puree into the ice cream makers cylinder and follow manufacturers instructions.
If you don't have one at home, pour peach puree into a plastic or pyrex container with a well sealing lid and place in the freezer. Check the sorbet after about 2.5 hours when it is almost frozen. Pull out the bowl and whip with a spoon vigorously. Put it back in the freezer and repeat mixing each 10 minutes frozen.
For the Rosemary Oil, stovetop method:
Simmer olive oil with rosemary springs over low heat for 10 minutes.
Transfer rosemary springs to a bottle or jar, then pour in the infused oil. Store.
For the Rosemary Oil, windowsill method
Combine olive oil with rosemary in a mason jar.
Place on a sunny windowsill and let it sit for 3-4 days.
Store.
To Serve
Scoop out one portion of sorbet and drizzle with 1 teaspoon rosemary oil and a few rosemary springs.
Notes
The finishing touch is Rosemary Infused Olive Oil, drizzled lightly over your sorbet. Although you only need a small amount to use as the garnish, might as well use the time to make a whole batch of Rosemary Oil! This versatile oil is perfect for drizzling on vegetables, meats and fish, or as a salad dressing ingredient. Plus, it looks beautiful on the counter!
By the Numbers
Serving size:
1 scoop
| Cal:
119
| Fat (g):
2.7
| Sat Fat (g):
0.8
| Carbs (g):
26
| Sugar (g):
1
| Sodium (mg):
200
| Fiber (g):
3
| Protein (g):
1
| Chol (mg):
0
---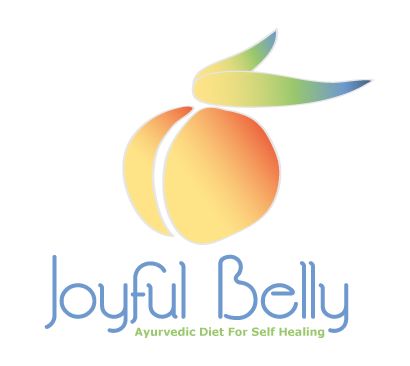 Joyful Belly is an Ayurvedic weight loss clinic in Asheville, North Carolina. Ayurveda is a 5,000 year old system of medicine from India, integrating both science with the art of healing.
Joyful Belly helps you understand how your body experiences food so that you can identify the best foods to eat for health, wellness and happiness.  The Joyful Belly website is an encyclopedia of food with ingredients and health tips. Quizzes and tips make it simple to enter your Ayurvedic doshas and create a personal Ayurvedic diet online, complete with a grocery shopping list.  Online and telephone consultations are available as well as recommended products for adding in weight loss.
---
May 20, 2015 | Spa Index Ayurveda Recipes