Spa Index Reviews Waikiki Plantation Spa Honolulu
Oahu is known as the "Gathering Place" in Hawaii and is the third largest of the four major islands, but by far the most populous. It is home to the well-known Diamond Head Crater, Pearl Harbor, Waikiki Beach, and two Outrigger Hotel properties which boast two of Honolulu's best spas.   
I visited both Outrigger Honolulu hotel spas on my trip to Hawaii.  I started my visit with the family friendly Outrigger Reef Waikiki Beach Resort, and ended it with Outrigger Waikiki Beach Resort.  
While I genuinely enjoyed both properties, and received excellent services at each, for a spa day I'd have to give the nod to Plantation Spa at Outrigger Waikiki Beach Resort as a my favorite of the two because of its dramatic roof top spa.
Outrigger Waikiki Beach Resort is a traditional favorite among Waikiki spa hotels.  The warm and gracious hospitality, elegant Koa wood furnishings, and exhibits of Hawaiian art embrace you with a genuine sense of place.  This much complimented hotel, situated directly on Waikiki Beach, has received numerous accolades from guests and has been recognized for its on-site cultural programs.
Outrigger Waikiki is home to Duke's Waikiki bar and restaurant, a Waikiki legend for live music and lively libation. This Waikiki hotel is a well-known address on Kalakaua Avenue, just steps to the Royal Hawaiian Shopping Center, luxury shopping, diverse dining, and Waikiki's non-stop nightlife.  There are many Waikiki Beach hotels, but none that captures the heart of the Waikiki experience quite like Outrigger Waikiki on the Beach.
Waikiki Plantation Spa
The Waikiki Plantation Spa is the only Penthouse Spa in the Hawaiian Islands.  The two story 5,000 square foot spa is on the 17th floor, overlooking the beach, hotel, and the heart of Waikiki. 
When I visit Destination Spas and Wellness Hotels, it's customary for the spa to be given a stellar location within the property or on the grounds.  It is a major part of the Destination Spa's program, after all.
However, with hotels and resorts which offer the spa as an amenity, and not necessary a major component, it isn't uncommon for me to visit an isolated wing, or small out-building, or a few rooms converted to a spa treatment area to maximize  available space.  Spas are almost always a lovely area, but they are not always a "star of the property."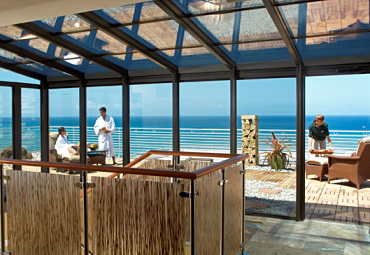 Not so at the Waikiki Plantation Spa.  This Outrigger hotel has not only devoted its most impressive area in the hotel to a spa and fitness center, but it has an express elevator to get you there.

When you arrive, the staff assists you in choosing  between the Seacret  Skincare line from the Dead Sea or Osea Skincare line, 100% Vegan and made from Organic Seaweed. 

Choose from specialty skin care, body treatments, nail care, massage, and much more.  I chose a Gentleman's Facial with the Osea line and after having spent quite a few days on waves, getting redder than  usual, my skin thanked me profusely.

Enjoy your treatments and retire to the Penthouse Deck to soak up the sun,  sip healthy tonics and teas, read a book,  and breath in sea air.

Maholo (thank you) to the Outrigger teams for showing me that Honolulu is more than a vibrant city on the beach.  It's also a beautiful and restful spa destination.


September 1, 2005 | Spa Index