Old Fashioned Almond Cookies
These delectable almond cookies, also called amandines, are a specialty of Arnaud Larher's Montmartre patisserie. They are low-fat (no butter or oil), sophisticated and versatile — the ideal accompaniment for coffee, tea, hot chocolate or ice cream. — AARP
Old Fashioned Almond Cookies
Photo by Joseph De Leo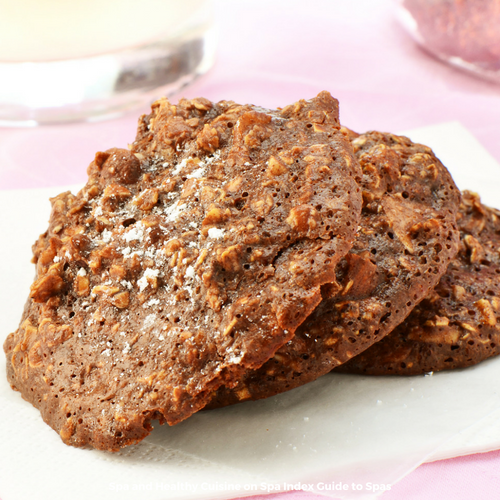 Courtesy of:
Dorie Greenspan, Paris Sweets
Ingredients
8½ ounces (250 grams) blanched almonds
1 cup (200 grams) sugar
1 teaspoon ground cinnamon, 3 tablespoons (20 grams) unsweetened cocoa powder, and/or 1 cup (50 grams) finely chopped pecans, to flavor (optional)
3 large egg whites, lightly beaten with a fork
Method
Position the racks to divide the oven into thirds and preheat the oven to 375°F (190°C). Line two baking sheets with parchment paper and keep them dose at hand.
Put the almonds and sugar in the work bowl of a food processor fitted with the metal blade and pulse, scraping down the sides of the bowl now and then, until the almonds are finely ground, about 2 minutes.
If you are using cinnamon or cocoa, put it in now and pulse to blend.
If you are using chopped pecans, wait to add them after all the other ingredients have been added.
With the processor running, add the egg whites in a steady stream. Mix about 30 seconds, only until the egg whites are blended into the almonds and sugar— you don't want to incorporate too much air into the batter. Add the pecans, if you are using them, and pulse just to mix.
Spoon out a level tablespoon of batter for each cookie, spacing the cookies about 1 inch (2.5 cm) apart on the lined baking sheets.
Slide the baking sheets into the oven and bake for 18 to 20 minutes, rotating the sheets front to back and top to bottom at the halfway point.
The cookies should puff, firm, and turn lightly brown around the edges. With a wide metal spatula, carefully lift the cookies off the baking sheets and onto cooling racks to cool to room temperature.
Notes
Per serving: 96 calories, 0g saturated fat, 11g carbohydrates, 3g protein, 1g fiber, 7mg sodium
---
November 25, 2013 | Kitchens Spa Index