Natural Decongesting Syrup
This potent potion helps break up congestion in the lungs and is an alternative cough syrup for those who react to the artificial colors, flavors and alcohol in most commercial syrups.

Natural Decongesting Syrup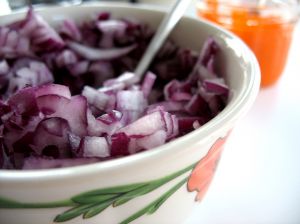 Courtesy of:
Healing Secrets of the Seasons: Recipes and Remedies That Soothe, De-stress, and Energize Throughout the Year, by Judith Benn Hurley
Ingredients
1 onion, finely chopped
1-1/4 cups honey
Method
Put the chopped onion in a shallow bowl and pour honey over onion, to cover.
Cover the bowl with a tight-fitting seal or plastic wrap, and let it ferment at room temperature for a minimum of 8 hours, or preferably overnight.
Discard the onion bits, and bottle the syrup.
To use, swirl 1 tablespoon of the syrup in tea or hot water, 3 times daily.
Makes approx 16 tablespoons; 65 calories per tablespoon; no added fat.
March 20, 2006 | Kitchens Spa Index DIY, Family