MOR Marshmallow Bath and Body Products in time for Marshmallow Day
In Japan, Korea and Taiwan, the February 14 Valentine's Day holiday is closely followed by White Day, celebrated on March 14.
On Valentine's Day, the custom is for women to give gifts of chocolate to men, and not just to sweethearts, but co-workers as well!  The chocolate gifts are known as giri-choco (giri = obligation; choco = chocolate).
In order to level the playing field, a savvy marshmallow manufacturer conceived of Marshmallow Day in 1965, calling for a gesture of thanks by the men. His idea bloomed and on March 14, men who receive chocolate on Valentine's Day return the favor and give sweet gifts — usually with marshmallow — to women. The holiday is called Marshmallow Day or White Day, as well, and gifts now include marshmallow, candy, chocolate, perfume, and lingerie.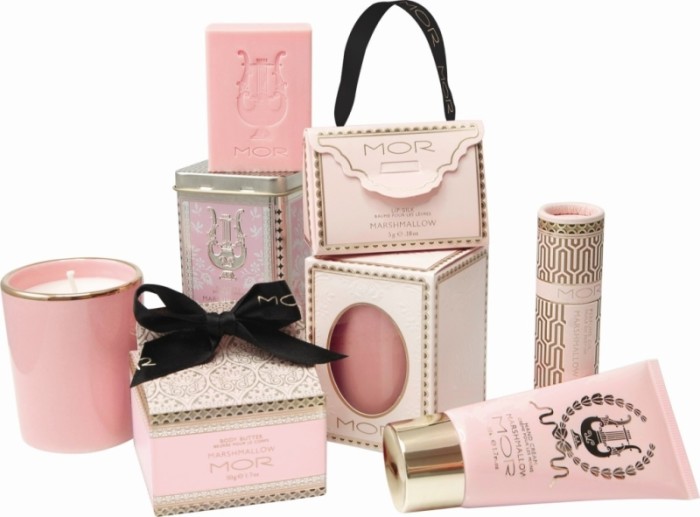 This year, delight your special one with a marshmallow gift in the form of luxe bath and body products from MOR.  MOR draws inspiration from timeless worldly wisdom, and from far corners of the globe to create a harmonious range of skin care, spa and body products.

Fear not, though — the MOR Marshmallow scent is far from a cloying kiddie fragrance.   The scent is soft and subtle, decidedly not like candy.  The name derives from the addition of marshmallow botanical extracts, but the packaging will appeal to every glamour girl, perfect for display on your vanity table and beside the bath.

We were happy to try many products from the line, however, one of our favorites (but sadly appears to be no longer available as its increasingly hard to find) was the MOR  Marshmallow Milk Bath Soak. The milk bath blend is designed to pamper and soften skin by combining vitamin-rich milk proteins with stimulating plant extracts. The texture is exquisite — no coarse powdered milk here.

We take every opportunity to turn a routine task into something special, so while we liked it as a bath and foot soak, we loved it as a hand scrub. The grain is so ultra fine that we added it to a lovely bowl adjacent to our sink in our in-house Freshen Up Lounge. A quick finger scoop of the bath soak, scrubbed between moistened hands, makes for an effective and gentle exfoliating spa treatment for the hands. The milk proteins and lactic acid will soften and brighten your hands on the spot.

Other favorites: The rich whipped body soufflé and body scrub, with peach seed and micro-beads, shea butter, soybean and marshmallow extract, and the lip silk.

February 26, 2014 | Spa Index