Miraval Resort Pumpkin Spice Cookies
Please skip those dry, artificially flavored and sweetened pumpkin treats at your coffee spot, and instead, try this recipe. These homey Pumpkin Spice Cookies by Miraval Resort & Spa in Tucson, Arizona, are so perfect for fall and winter – the combination of pumpkin and spices says "holiday" and because the recipe makes a lot of cookies, it's a good one for those office parties and school functions that inevitably fill out end-of-year calendars.     This recipe is courtesy of Miraval's Sweet & Savory  cookbook.    This is a family favorite version of a cookie that is packed with ingredients more nutritious than your average recipe. You still get great flavor, with less fat calories.  In fact, one cookie is less than 1 gram of fat.
Miraval Resort Pumpkin Spice Cookies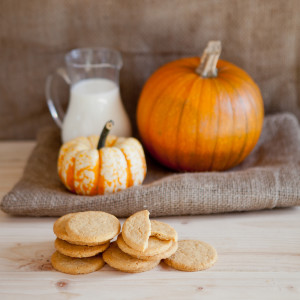 Ingredients
2 Tbsp. butter, softened
2 Tbsp. prune puree
1 c. brown sugar
3/4 cup canned pumpkin
1/4 cup molasses
1 egg
1 egg white
1 tsp. vanilla extract
1 - 1/2 cups unbleached all-purpose flour
1/2 cup whole-wheat flour
1/2 tsp. baking soda
1 tsp. baking powder
1 tsp. cinnamon
1/2 tsp. allspice
1/2 tsp. ginger
Pinch of kosher salt
Method
Heat the oven to 350°F. Spray a baking sheet with nonstick cooking spray and set aside.
In a bowl of a stand mixer fitted with a paddle attachment, cream together the softened butter, prune puree, and brown sugar. Add the canned pumpkin, molasses, egg, egg white, and vanilla and continue to mix until smooth.
In a separate bowl, sift together the flours, baking soda, and baking powder and add the cinnamon, allspice, ginger, and salt. Add the dry ingredients to the mixer and mix on low speed just until incorporated. Scoop spoonfuls of dough onto the baking sheet, leaving about 2 inches of space between the balls of dough. (They will spread slightly during cooking.)
Bake for 12 to 14 minutes, until puffed and slightly golden around the edges. Cool at room temperature.
Notes
Makes 24 cookies. 2 per serving. Calories: 100; Total fat: 1 g; Carbs: 20 g; Dietary fiber: 1 g; Protein: 2 g
---
 

October 7, 2015 | Spa Index Miraval Recipes, Pumpkin