Miraval Honey Cornflake Chicken Fingers
The food at Miraval Resort & Spa in Arizona is healthful and flavorful. The pioneer for mindfulness in every aspect of life, one of the pillars of Miraval's success is that healthy food can taste good. Long celebrated for delectable masterpieces in spa cuisine, Miraval's culinary team has created a compilation of balanced recipes, representing an invitation to continue eating the Miraval way—by expanding and mixing and learning more about one's needs while bringing diet into balance.

Miraval recipes are available for you to take the glorious Miraval taste with you to re-create in the comfort of your own home, in its cookbook Mindful Eating. 
From Mindful Eating we are sharing this fast, simple recipe for Honey Cornflake Chicken Fingers — a family pleaser and very  nice in a lunch bag at the office.
Miraval Honey Cornflake Chicken Fingers
Photo (c) Rita Maas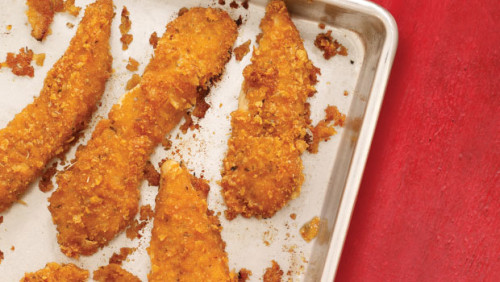 Ingredients
1 lb. boneless, skinless chicken breast, cut into 12 strips
1/4 cup honey
1/4 cup water
1 cup corn flakes, crushed
Method
Preheat the oven to 425F.
Lightly spray a baking sheet with cooking spray.
In a small bowl, whisk together the honey and water. Soak the chicken in the honey.
Crush and place the cornflakes on a plate. Remove chicken strips from honey and coat with cornflakes.
Place on a prepared pan. Bake for 10 minutes. Turn the chicken over after 5 minutes to evenly brown the chicken fingers.
By the Numbers
Serving size:
2 pcs approx
| Cal:
250
| Fat (g):
6
| Sat Fat (g):
1.5
| Carbs (g):
25
| Sugar (g):
12
| Sodium (mg):
210
| Protein (g):
24
| Chol (mg):
65
---
January 1, 2014 | Kitchens Spa Index Favorites, Miraval Recipes