Living Hair System by the Body Deli
Chemical laden swimming pools, Jacuzzi tubs, salt water, sun, sand, and more, can wreak havoc on your locks.   The Body Deli, based in Palm Desert, California, but with a website to cater to all its long distance clientele, has a line of products that will help retain hair luster.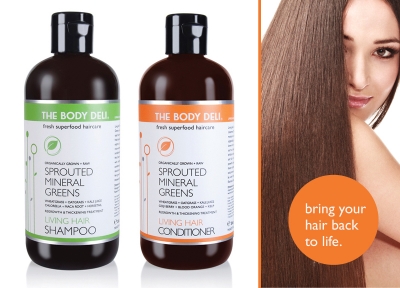 The Body Deli's philosophy is based on the idea that living plants contain the vital energy and nutrients that rejuvenates the skin and body.  Their products are not only natural, but they are "living" as well.  This is represented even in the product display — all products are showcased in Refrigerated Deli Case equipment to keep them fresh and to display them in a unique and exciting manner.  "This creates an interactive shopping experience that the customers just love," says co-owner Margaret Skarin.
Living Hair Shampoo
Rich in Organic Superfoods the Living Hair Shampoo has sulfate free surfactants. It provides a luxurious rich lather and helps thicken fine and limp hair. The formulation is for all hair types and is color safe for color treated hair.
The Body Deli's volumizing Botanical Shampoo is designed to bring luster, body and luxurious thickness to your hair.  The amino acid rich oat and wheat proteins strengthen hair and Pro-Vitamin B-5 imparts sheen and incredible body to the hair shaft. This ultra mild shampoo is formulated to be used daily, bringing weightless vitality to your hair and creating the perfect palette for any hairstyle. Safe for color treated hair.
Living Hair Conditioner
This weightless formula for volume is infused with Phyto-nutrients and Klamath Blue Green Algae for hair strength.  The Living Hair Conditioner nourishes and hydrates. This conditioner is formulated for all hair types.
The Body Deli's Volumizing and Nourishing Botanical Conditioner is overflowing with natural phyto-nutrients to heal dry and damaged hair and imparts a healthy, luxurious shine, body, bounce ad vitality. This weightless conditioning formula supplies essential fatty acids, proteins, herbal extracts and mineral rich algae to fortify the hair shaft and deliver generous levels of organic active ingredients to rejuvenate dull, brittle and limp hair. This daily conditioner is light enough to use every day. Make every day a great hair day with this exceptional nourishing hair treatment.
The Body Deli
73-910 HWY 111, Suite B
Palm Desert, CA 92260
Located on the North side of HWY 111 between Portola and San Luis Rey.

Hours of Operation:
Monday-Saturday from 10 AM-6 PM PST
Telephone: 1-760-340-3731

June 28, 2014 | Spa Index