Pritikin Lighter Hummus Dip
Next time you want to nibble on a healthy dip, skip the dairy based varieties which can pack on extra calories.   This lighter but full-flavored version of hummus, a traditional Mediterranean dip, is a great source of of heart healthy mono-unsaturated fat and lean protein.  It's made without all the salt and extra calories from the usual ingredients of oil and tahini (what you often get in store-bought varieties), and comes together in mere minutes.

Pritikin Lighter Hummus Dip
Chef Drew Rosen has a passion for cuisine that is both heart-healthy and palate pleasing, and consistently garners rave reviews from Pritikin guests for rich, savory entrees, dishes that are all the more impressive considering that each follows Pritikin Eating Plan guidelines and is prepared without artery clogging fats like butter and cream and no added salt.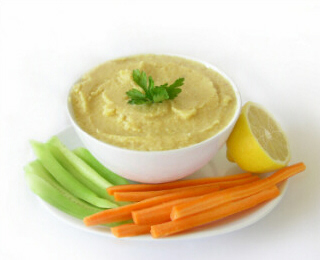 Ingredients
1 15-ounce can cooked garbanzo beans, drained
1/4 cup lemon juice
1 tablespoon fresh garlic, minced
2 tablespoons fresh Italian parsley, chopped
1/4 cup fresh dill, chopped
1/8 teaspoon white pepper
1/2 cup celery, chopped
Method
Blend all ingredients in food processor, blender or VitaMix.
If the mixture is thicker than you like, add about 1 tablespoon of water.
Serve with raw vegetables for dipping.
Photo by Daniela Spyropoulos for Spa Index Media
---
The Pritikin Program promotes weight loss but also enhances health, and powerfully so.  A stay at our all-inclusive weight loss resort, Pritikin Longevity Center in Florida, will change your life. Lose weight, get fit and return home with the tools needed to live a healthier life.
---
 

April 25, 2014 | Kitchens Spa Index Favorites, Miami, Pritikin, Weight Loss