Lite Dutch Baby Pancake
I think pancakes are hard. Not the recipe. Not the batter.  It's the browning. I want them to be a perfect diner-style brown. Not mottled and uneven, and no matter how hard I try, I can't master the technique.   I used to make pancake bars by baking the batter and then cutting, brownie style, and that worked great. But now it's all about the Dutch Baby.
This recipe couldn't be easier, and it all goes into the pan at once. It's not supposed to be evenly brown, it's lovely to show guests, and everyone eats at the same time. This is a nice breakfast.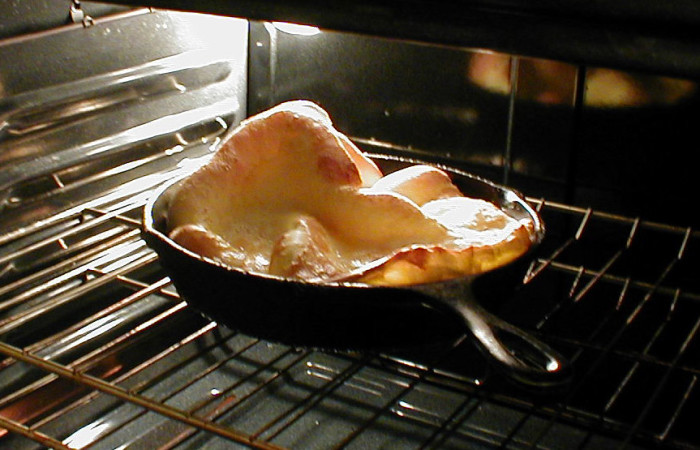 Courtesy of:
SpaIndex.com
Ingredients
1 tablespoon unsalted butter
non-stick cooking spray -- butter flavor or regular
1 large Egg Beaters 99% Egg Substitute --
1 large egg white -- lightly beaten
1/2 cup all purpose flour
1/2 cup skim milk
1 teaspoon vanilla extract
1 tablespoon granulated sugar or sugar substitute
nutmeg
salt
1/2 fresh lemon
1 tablespoon powdered sugar (optional)
Berries (optional)
All Fruit No Sugar Added Preserves (optional)
Method
Position a rack in the lower third of the oven and preheat to 425 degrees F.
After preheating for 10 minutes, add the butter and a 5 second spray of cooking spray to a round pan or cast iron skillet with sloping sides. A large pie tin will also work. Set the pan in the oven to preheat 10 minutes.
In a large bowl, whisk together the egg and egg white, then whisk in flour, milk, vanilla, sugar, a pinch of nutmeg and a pinch of salt.
Set a small sifter in a dish and pour the confectioner's sugar into it. Set this and the lemon half (plus a reamer if you have one) near the stove.
Pour the batter into the preheated pan and return it to the oven to bake for 15-20 minutes, until the edges are puffed up high and are golden brown. Remove the pan from the oven. Squeeze the juice of the halved lemon over the whole surface of the pancake, and sift on the confectioner's sugar.
Serve hot, immediately directly from the baking pan.
Cut into wedges at the table. Spoon no sugar added preserves or syrup if additional sweetener is desired.
---
---
 

February 14, 2007 | Kitchens Spa Index