Lasagna Roll Ups
Autumn always signifies comfort cooking, to us. We take the slow cookers out of storage, pour over casserole and pasta recipes, lay in a cord of firewood, and read cookbooks, nestled under a throw during the evening's cooler temperatures.  Green Mountain at Fox Run in Ludlow, Vermont, has a Lasagne recipe that is fit and healthy, and still lets us taste the best of Autumn.
Green Mountain is the only all-women's healthy weight loss program promoting long-term weight management through healthy lifestyle change. It also offers intensive type 2 diabetes programs to help women prevent or manage diabetes through lifestyle change.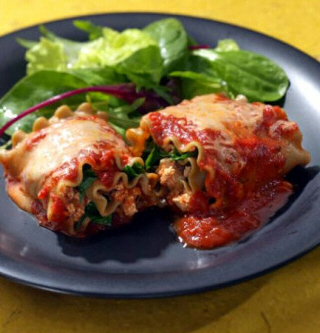 Ingredients
6 lasagna noodles
1 cup light ricotta cheese
1 egg
1/2 cup shredded parmesan cheese
1/4 cup chopped basil
1/4 cup chopped parsley
1/4 teaspoon salt
Pepper to taste
Spinach leaves (optional -- added by SpaIndex Staff)
1 jar (25 oz) no sugar low sodium tomato pasta sauce (divided)
1/4 cup shredded mozzarella (or parmesan) cheese for topping
Method
Prepare lasagna noodles according to package directions. Drain, separate cooked noodles and lay on wax paper to keep them from sticking. [Note: if not preparing immediately, also cover them with wax paper or plastic wrap so they don't dry out.]
Preheat oven to 375ºF. Spray 8x8 baking dish with nonstick cooking spray. In small mixing bowl, combine ricotta, egg, parmesan cheese, herbs, salt and pepper.
Spread one cup of the jarred pasta sauce on bottom of baking dish.
Cut the noodles in half lengthwise and spread cheese mixture evenly on the noodles. Layer with spinach leaves, if desired.
Roll each half into a spiral and arrange in baking dish on top of the sauce.
When all of the rolls have been made, spread another cup of tomato sauce on top of the rolls, sprinkle with mozzarella cheese (and fresh basil if desired).
Cover dish with aluminum foil.
Bake at 375ºF for 20 minutes; remove foil and bake uncovered for another 20 minutes or until the cheese is melted and bubbling. Let cool for 5 minutes.
Meanwhile, in a small saucepan heat remaining pasta sauce and serve additional sauce as needed.
Notes
If you want to please the family and a meat-sauce is necessary, use ground turkey or chicken in the sauce to keep the fat grabs low and the protein high.
---
 

October 4, 2014 | Kitchens Spa Index Favorites, Green Mountain at Fox Run