Italian Bacon Dumpling Soup
This unique Bacon Dumpling Soup is a favorite of guests at the Adler Thermae Spa Resort in the Tuscany Region of Italy.   It is adapted from a favorite regional dish called Tyrolean Dumplings commonly served in the Dolomites, a mountain range located in northeastern Italy.  This lighter recipe is intended to be your soup and bread in one dish.  Make the dumplings petite (they plump up!) and you can divide this dish easily to keep the nutritional stats within your goal, and still enjoy rich flavor.
Italian Bacon Dumpling Soup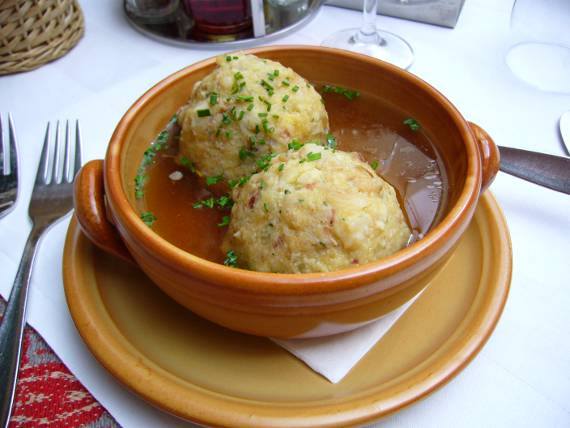 Prep time:
Cook time:
Total time:
Ingredients
For the Dumplings
3-4 stale hard rolls or Kaiser rolls
5 oz. lean Tyrolean bacon, cooked and diced
1 tablespoon parsley
2 cups warm skim or low-fat milk
3 eggs
1 small onion
Dab of butter or splash of olive oil
Dash of salt
1/2 cup all purpose flour with a dash of salt
Boiling Water
For the Broth
6 cups hearty beef broth, heated through
2 tablespoons chopped chives
Method
Cut stale rolls into cubes, place in mixing bowl.
Finely dice bacon and add to bread cubes. Sprinkle with chopped parsley.
Mix eggs and milk and pour over bread/bacon mixture. Stir and let stand for 20 minutes.
Peel and finely chop onions. Sauté in a modest amount of butter or olive oil until translucent.
Add sautéed onions and flour to bread mixture. Add salt and mix well.
Form 12 small dumplings and let simmer in salted, gently boiling water (enough to cover and let the dumplings float) for approx. 15 minutes. They will plump up and float to the surface, an indication they are ready!
Remove dumplings from water bath
Serve hot dumplings in heated beef broth.
Garnish with chopped chives.
Notes
If you can't find very lean bacon, use Canadian bacon, smoked ham, or Turkey Bacon, to keep the fat calories at a minimum. We calculated this recipe using Canadian Bacon, 1% milk, and Low Sodium Beef Broth. Allow for 2 dumplings and 1 cup of broth per guest.
By the Numbers
Serving size:
1 cup
| Cal:
235
| Fat (g):
7
| Sat Fat (g):
2
| UnSat (g):
3
| Carbs (g):
26
| Sugar (g):
4
| Sodium (mg):
884
| Fiber (g):
1
| Protein (g):
16
| Chol (mg):
94
---
 

February 6, 2015 | Spa Index