10 Tips for Healthy Family Getaways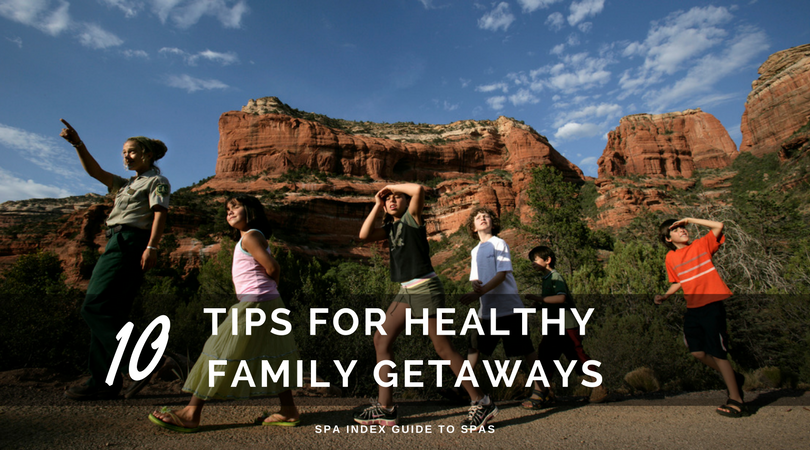 Did you know there are easy ways to enjoy healthy family getaways without sacrificing fun? Here are 10 tips to help make your vacation more active and healthy, courtesy of Mountain Trek Fitness Retreat in British Columbia, Canada.
School's out for the summer and many of us are planning vacations over the next two months that will see us visiting beaches, amusement parks, national monuments, resorts, cottages and other family members – all with the kids in tow. And while this is a wonderful time to connect with our immediate family, it can also be a difficult time to stay connected with our health and wellness regime. After all, how many of us return from vacation a few pounds heavier? Or find it difficult to get back on our exercise program after a family getaway?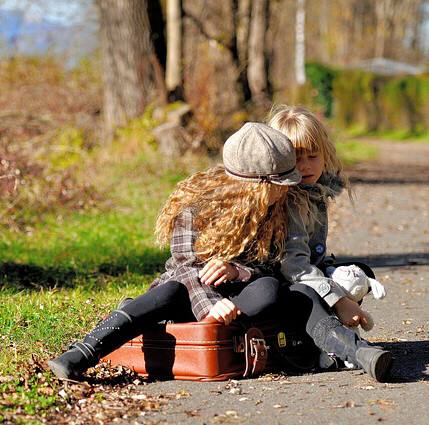 START RESTED AND PREPARED
Much of the stress we blame on jet lag or airport hassles may stem from having been up half the night before tending to last-minute details.   Make a packing list in advance and try to finish your packing and departure arrangements the day before you leave. It will be worth the investment of time as it lets everyone relax and take a deep breath before the trip begins.  Here's a handy packing list useful for all kinds of vacations:
Sunscreen
Hats for everyone
Lip balm and aloe vera
Insect repellant
Antibiotic cream
Anti-itch cream
Soap and Sanitizer
Moist Towelettes
Bandaids
Eye Drops
Tweezers
Prescriptions/inhalers
Toothbrushes and toothpaste
Spare Ziploc bags
Sunglasses
Headlamp or flashlight
Clothes / Shoes (pack light – chances are you'll be in one outfit most of the journey anyway)
5 feet of string, rolled up
Laundry pegs (you'll be surprised how handy these are)
Playing cards and games
Stickers/art supplies
Cellphone
Wallet
Camera
Water bottle(s)
Snacks (see below)
LEAD THEM TO WATER
Whether it's ocean, lake, river, water park or swimming pool, you can't go wrong when there's water around. These locales are always rife with fun, calorie-burning and therapeutic activities, including swimming, stand up paddle boarding, snorkeling, body surfing and kayaking, even swim lessons for the younger set. Instead of lying on the beach or shoreline sunning yourself, get in the water with your kids or join in a guided lesson.
PREPARE FOR THE WEATHER
In addition to everything on the packing list provided above, consider renting an umbrella if you're at the beach on a sunny day, and bring plenty of drinking water. Children are more prone to heat-related injuries because they tend to warm up 3 to 5 times faster than adults. It's important to watch for signs of dehydration. Also, everyone in the family should wear sunscreen or UPF clothing if out in the elements for a prolonged period of time, especially when surfing or snorkeling. Remember, it doesn't have to be hot for you to be overexposed to UV Rays.  If you can see your shadow, you need sunscreen.
PACK HEALTHY SNACKS AND MEALS
Taking a road trip usually means your choice of eateries is limited to road-side fast food restaurants, vending machines or service station snack bars.  Hotel rooms with honor bars are usually stocked with overpriced candy and soda.  Plan ahead to pack a picnic lunch and stop at a park or highway rest area.  You'll eat better, you'll stretch your legs and refresh, and the kids will have a place to run around and blow off steam.
PLAN ACTIVITIES IN ADVANCE
Whether you're traveling by car, plane, boat or, even if you're having a summer stay-cation at home, keeping everyone entertained can be challenging. Plan ahead to keep the family active.  Portable games like Frisbee, soccer, tag and bocce ball are fun for everyone. Or, take a guided walking tour, rent bicycles (many resorts have loaner bicycles) or take group lessons of some kind, including golf or tennis.  A scavenger hunt is always fun, and easier to plan than you think. See the next tip!
PLOT A GROCERY STORE SCAVENGER HUNT
As we pointed  out above,  many vacation eateries tend to fall into the unhealthy fast food or junk food category.  Kids enjoy these places because many of them involve fun and games.  Here's a tip to make shopping for groceries just as fun for everyone — and it isn't limited to vacations: give well-behaved kids a list of three healthy items they need to find in the Farmer's Market or Grocery Store. Offer a reward like a new coloring book, stickers, or something fun. Another idea when you're in a new city, region or ethnic area is to ask them to spot unusual food items they don't recognize.  Ask the grower, produce manager or grocer to identify it for you, and buy it for a meal the kids help you prepare.
TAKE ADVANTAGE OF KIDS CAMPS
If are you headed to a resort or cruise, take advantage of kids camps and group activities offered by the activity directors who are trained to entertain children. Many cruise lines and family friendly resorts have educational and recreational activities especially for kids, including crafts, cooking, sports, games, animal care and nature exploration.   Bonus:  The children are occupied usually all day, leaving the adults free to enjoy personal wellness, spa treatments, quiet  time, or reconnection.
TRAVEL WITH FRIENDS
When it comes to fun, the more the merrier. Have one of your child's friends join you on your family vacation (take turns which child gets to bring a friend on various trips throughout the year) and they will be able to entertain themselves, leaving you more time for you. Better yet, travel with another family and encourage all the adults to play along, too.  Can't travel with friends? Kids will love having the four-legged variety along for the ride at
Pet Friendly Resorts
.
DINING CLEAN
Even though we recommend eating as many of your own prepared meals as possible (see our tips for snacks and grocery shopping, above), we also know that one of the fun aspects of vacation is trying new and different cuisines, foods and restaurants.   When you do, learn to order the types of food that will not only taste good, but make you feel good.
Order dishes that are steamed, grilled or broiled (avoid fried or sauteéd).
Avoid the bread basket entirely, and sandwiches, if you can.  If you can't, ask for whole-grain bread.
Many hotels and restaurants have breakfast buffets included, or all-you-can eat buffets for other meals. Avoid them if you can, and order from menus if available.
When choosing a beverage, stick to water, herbal teas, unsweetened iced tea. Not only are these healthier options, they'll also save you money as sodas, smoothies and other beverages generally have the highest restaurant mark-up.
DO THE UNEXPECTED
From whitewater rafting excursions to hip-hop dance classes to culinary school – engage in new experiences and unleash your inner child. Your kids, your health and your happiness will love you for it!
ABOUT MOUNTAIN TREK
Mountain Trek Fitness Retreat has two beautiful locations to welcome guests who seek wellness adventures. The first is nestled above a pristine mountain lake in a private secluded setting in British Columbia, Canada, and the second is hosted at Rancho La Puerta, in Baja Mexico, North America's longest running destination spa resort.

At Mountain Trek we care about your wellness and vitality, and this includes delicious, nutritious food. Under the guidance of our registered dietician, our approach to food is clear and simple. Healthy spa cuisine does not need to sacrifice flavour to save on calories. We believe in fresh, organic, healthy, power-packed – and delicious – meals and snacks.

We are delighted to share some of our guests' favorite entrees with Spa Index readers and welcome you take a tour of our website to book your next wellness retreat.

May 1, 2016 | Spa Index All Wellness, Mountain Trek