Grilled Turkey Saltimbocca
This delicious high protein and low fat Grilled Turkey Saltimbocca makes a wonderfully quick weeknight supper, and leftovers are a delicious sandwich or wrap the following day.  You can find thin sliced turkey breast cutlets in many major grocery stores, so buying a whole turkey isn't necessary. If you can't find them, substitute thinly sliced or pounded chicken cutlets. With a few elegant side dishes, it can easily be presented for a romantic meal.  The flavor is greatly enhanced by the thinly sliced prosciutto. A little goes a long way, which is so rewarding when cooking light.
Grilled Turkey Saltimbocca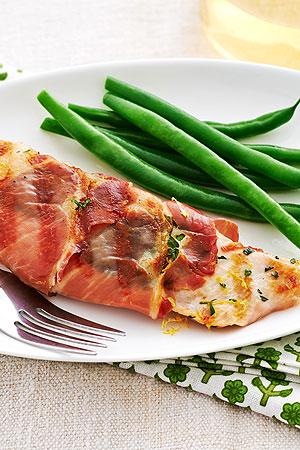 Courtesy of:
Ontario Turkey
Prep time:
Cook time:
Total time:
Ingredients
4 Ontario turkey scallopini (about 12 oz/375 g total)
2 tablespoons (25 mL) chopped fresh parsley
2 teaspoons (10 mL) grated lemon rind
1/2 teaspoon (2 mL) freshly ground black pepper
8 large fresh basil leaves
8 slices prosciutto or serrano ham
Olive Oil or Cooking Spray
Method
In a large bowl, toss scallopini with parsley, lemon rind and pepper.
Lay scallopini on work surface and top each with basil leaves to cover. Wrap each with prosciutto, using two slices to cover.
Place on greased grill over medium heat and grill for about 8 minutes or until prosciutto is crisp and turkey is no longer pink inside.
Plate with simply dressed greens or vegetables.
By the Numbers
Serving size:
1
| Cal:
246
| Fat (g):
12
| Carbs (g):
8
| Sodium (mg):
819
| Fiber (g):
5
| Protein (g):
31
| Chol (mg):
70
---
About Ontario Turkey Ontario Turkey is the consumer brand of the Turkey Farmers of Ontario (TFO). Turkey Farmers of Ontario is located in Kitchener, Ontario and represents 185 turkey farmers across the province. The producer-run, producer-funded organization has been achieving success in the turkey industry for over 45 years, and continues to ensure humane treatment and care of turkeys while providing safe, high quality food to consumers.

August 30, 2013 | Kitchens Spa Index