Grilled Chicken Chimichurri
Christine Denney, the chef for the Oaks at Ojai health spa in California, created this guest-favorite Chicken Chimichurri entree. Chimichurri sauce is to Latin Americans what Ketchup is to Americans.  This colorful and vibrant sauce has it origins in Argentina and Uruguay and is influenced by Mediterranean pestos. There are many variations ranging from mild to spicy and thick  (for sauces and dips) to thin (for marinades).   Here is the Spa Version! 
Chicken Chimichurri
Make this light and high protein entree in the heat of summer when grilling is not only fun but healthful and keeps the kitchen cool. This entree makes a salad or sandwich the next day.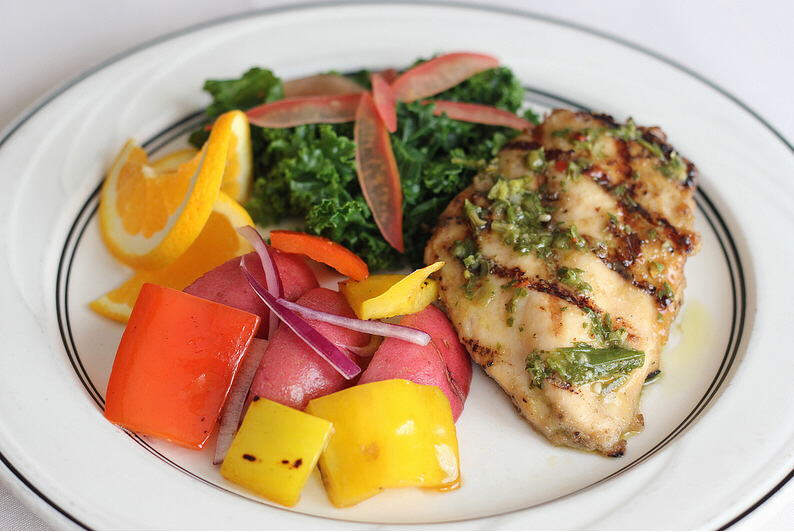 Ingredients
4 boneless skinless chicken breasts, approx 4 oz each
6 tablespoons minced parsley
3 tablespoons minced cilantro
1 teaspoon minced garlic
1 teaspoon minced jalapeno
1 teaspoon minced onion
2 teaspoons capers
Pinch dried red chile flakes
2 tablespoons red wine vinegar
3 tablespoons olive oil
Method
Process all ingredients except the olive oil in a food processor or blender. Whisk in the olive oil last.
Use half (or less) to marinate your chicken (or try it on fish) for at least 20 minutes, but preferably an hour, in the fridge.
Grill your chicken (or oven bake) to your liking and serve the remainder of the chimichurri as a sauce.
Notes

Equally good on a piece of firm white fish!

By the Numbers

Serving size:

1

| Cal:

237

| Fat (g):

14

| Sat Fat (g):

3

| Trans (g):

0

| Carbs (g):

1.5

| Sodium (mg):

107

| Fiber (g):

.5

| Protein (g):

25

| Chol (mg):

65

More about the Oaks at Ojai:

The Oaks at Ojai is an all-inclusive destination spa in California, a healthy retreat offering guests a range of activity from guided hikes into the mountains, to water aerobics, to restorative yoga.    As an American Plan Spa, The Oaks provides a well-rounded calorie-conscious food plan that consists of three meals, snacks and beverages. The varied menus feature natural foods, fresh fish and poultry, locally-grown fruits and vegetables, homemade salad dressings and soups – all without a touch of additional salt or refined sugar used in the preparation.

June 19, 2016 | Spa Index Bariatric, Oaks at Ojai, Summer