Spring Green Vegetable Minestrone | 80 Calories
"This is my nourishing vegetable soup of the moment.  I absolutely love eating it, not only because it tastes so good, but because I can instantly feel the goodness and the benefit to my body.   I love it straight from the pot and often top it with chopped avocado and a generous drizzle of salsa verde. If I want to pump up the protein, I'll add some chicken or creamy white cannellini beans." — Healthy Chef Teresa Cutter
What's good about it?   Basically everything!
Studies show that the health benefits from following a diet that focuses on a daily intake of vegetables include weight loss; diabetes control; lowered insulin secretion; improved sports performance; and reduced risk for diabetes, cardiovascular disease, high blood pressure and cancer.
These veggies act like pre-biotic in the digestive system that help to stimulate the favorable growth and activity of the good probiotic bacteria.  This minestrone is low carb and low GI that will fill you up as well as help to keep insulin levels steady. Make a big pot and eat as much as you want any time of the day.
Green Vegetable Minestrone
Top the minestrone with chopped avocado and salsa verde just before serving. Pump up the protein by adding white beans or chopped chicken breast when adding the stock.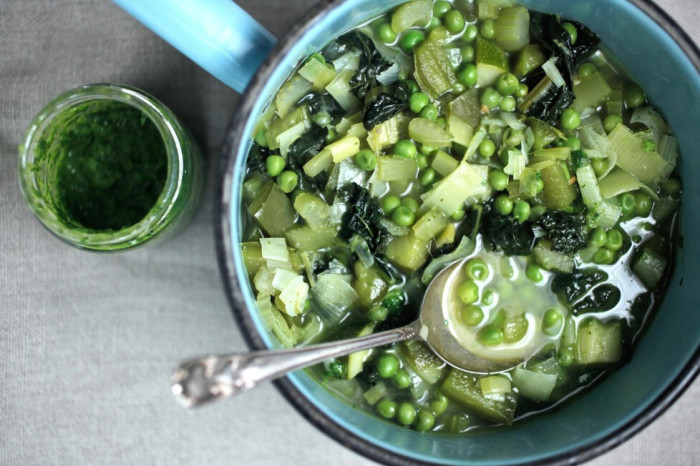 Ingredients
Minestrone
1 large leek, sliced
2 celery stalks, cut into small chunks
1 large green bell pepper, cut into chunks
2 zucchini, cut into small chunks
100 g (3-1/2 oz) kale, calvo nero or silver beet chopped
250 g (9 oz) green peas
1 litre (4 cups) vegetable stock
Salsa Verde
1 bunch green basil
1 bunch parsley
1 cloves fresh garlic, smashed
½ teaspoon sea salt
3 tablespoons fresh lemon juice
6 tablespoons cold pressed olive oil
Method
Sauté the leek and celery in a large saucepan over a low heat for 2 minutes until soft.
Add the stock, zucchini, bell pepper and kale or calvo nero.
Simmer over a gentle heat for 10 minutes.
Add the peas.
Simmer for another 3 minutes.
Season with freshly ground white pepper if required.
Combine salsa verde ingredients into a good high-speed blender until a gorgeous green paste forms.
Adjust consistency and taste if necessary, adding a little more cold pressed olive oil or lemon.
Ladle the green minestrone into serving bowls.
Enjoy as is or top with a generous drizzle of salsa verde.
Serve immediately and enjoy.
Notes
Nutrition per serving (approximately 1 cup) is for a version without salsa verde, beans or chicken. Adjust accordingly.
By the Numbers
Serving size:
1 cup
| Cal:
80
| Fat (g):
2
| Carbs (g):
11
| Fiber (g):
8
| Protein (g):
7
About the Chef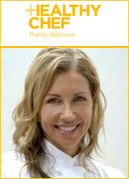 Teresa Cutter is one of Australia's leading authorities on healthy cooking and the founder of The Healthy Chef.  Healthy Chef is a company that creates purely delicious functional foods for optimum health + wellbeing.  We use organic and natural wholefoods and pride ourselves on developing quality that will inspire a deeper commitment to healthy living. A change in diet can bring about a change in health.   Teresa is the author of five healthy cookbooks – Bite Me, The Anti-Aging Cookbook, Fit Food, The 80/20 Diet, and 101 Ways to Lose Weight.
---
April 23, 2015 | Spa Index Favorites