Green Mountain Carrot Cake
This morning, in a discussion about books on sugar addiction, I remembered David Kessler's book, The End of Overeating, which has a lovely picture of carrot cake on the cover. This also reminded me that many of you have been asking for our carrot cake recipe.   With sugar addiction or food addiction one might think they cannot have cake; however, research on managing cravings has demonstrated that complete abstinence triggers cravings just as over-consumption triggers cravings.
What's your best bet for managing sugar addiction? Moderation — and having cake from time to time would qualify. In fact, having cake as a dessert after a well-balanced meal that includes plenty of vegetables, protein, fat and whole-food carbohydrates may decrease the likelihood that a sugary food like cake could trigger more cravings.
It's definitely worth experimenting with to see how how it affects cravings. And for your experimenting pleasure, here's our fan-favorite carrot cake recipe.
— Robyn Priebe, Green  Mountain at Fox Run, Vermont
Green Mountain Carrot Cake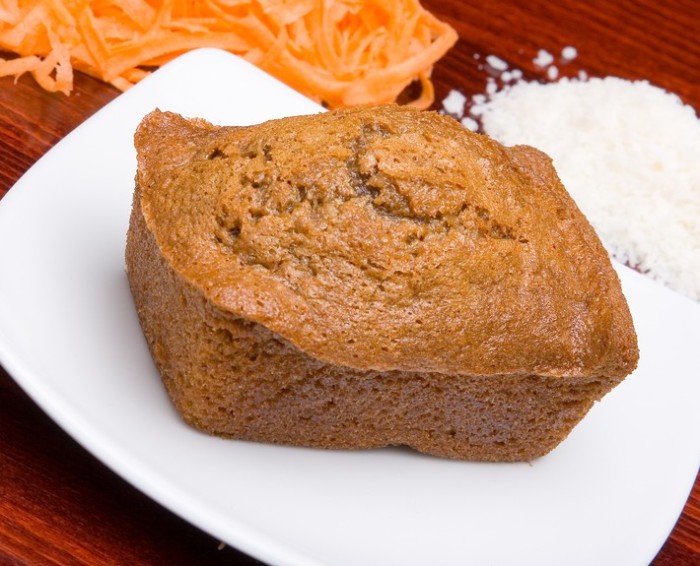 Ingredients
Dry Ingredients
2 cups all-purpose flour
1/4 cup whole wheat flour
½ teaspoon allspice
½ teaspoon nutmeg
½ teaspoon salt
2 ½ teaspoons baking powder
2 teaspoons cinnamon
Wet Ingredients:
1 ¾ cups sugar
¼ cup brown sugar, packed
¾ cups canola oil
2 eggs
2 teaspoons vanilla
3 cups grated carrots
Method
Pre-heat oven to 375° F.
Prepare an 8 by 13 inch glass pan with cooking spray.
Mix dry ingredients in a large bowl and set aside.
In separate bowl, mix sugar, brown sugar, and oil well. Slowly mix in eggs and vanilla.
Blend wet and dry ingredients together, being careful to not over mix.
Once blended, fold in the carrots.
Pour batter into prepared pan
Bake in oven at 375° F for 30 to 35 minutes.
Let the cake cool completely before cutting.
Notes
Nutrition calculated by adding all ingredient calories and dividing by 12 Servings. If you use larger or smaller muffin tins or cut larger or smaller portions from a sheet pan, your stats will vary. Per Serving: Calories 383.2, Total Fat 16.5 g, Saturated Fat 1.5 g, Polyunsaturated Fat 4.2 g, Monounsaturated Fat 8.2 g, Cholesterol 13.6 mg, Sodium 140.4 mg, Potassium 149.8 mg, Total Carbohydrate 57.7 g, Dietary Fiber 1.7 g, Sugars 35.5 g, Protein 3.9 g, Vitamin A 0.5 %, Vitamin B-12 0.6 %, Vitamin B-6 0.9 %, Vitamin C 0.1 %, Vitamin D 0.7 %, Vitamin E 14.3 %, Calcium 6.3 %, Copper 2.4 %, Folate 11.2 %, Iron 7.7 %, Magnesium 1.7 %, Manganese 10.5 %, Niacin 7.0%, Pantothenic Acid 1.0 %. Phosphorus 5.3 %, Riboflavin 7.6 %, Selenium 11.5 %, Thiamin 12.3 %, Zinc 1.4 %.
By the Numbers
Serving size:
12
| Cal:
383
| Fat (g):
16.5
| Carbs (g):
57.7
| Fiber (g):
1.7
| Protein (g):
4
---
 

August 5, 2015 | Kitchens Spa Index Green Mountain at Fox Run