Grapefruit Jojoba Sugar Scrub
This simple grapefruit sugar scrub takes advantage of commonly available sugar as an exfoliant and the properties of Grapefruit Essential Oil (an astringent) and Jojoba Oil (skin conditioner).  The addition of Castile Soap helps to cleanse and rinse away the scrub.  You could easily add a tablespoon or two of grapefruit juice (fresh) if you happen to have it, or, a crushed grapefruit section from your breakfast, but be careful not to add too much or you'll dissolve the sugar too quickly.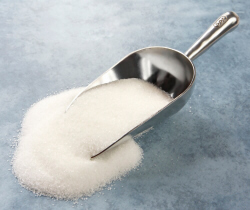 Courtesy of:
SpaIndex.com Spa at Home Collection
Ingredients
1-1/2 cups white table sugar
8 drops grapefruit essential oil
2 drops red food coloring (optional)
1/4 cup jojoba oil
1/4 cup liquid castile soap
Method
Place sugar into a large bowl and stir to break up any clumps.
Add the essential oil; add one or two drops of red food coloring if you'd like it pink.
Mix very well to make sure the oil and color is evenly dispersed.
Add the jojoba oil and Castile soap next, a little at a time, stirring after each addition.
Mix well and the pour into clean container.
To use, stand in the tub or shower and massage the sugar scrub onto your skin from head to toe (avoiding face); Rinse; Inhale; Smile.
Notes
SpaIndex.com Tip: You've heard the adage "Never cook with wine you wouldn't drink." This holds equally true for home spa remedies. Never use ingredients for your home spa treatments that you wouldn't want to eat. Your skin, the largest organ on your body, breathes and is porous. It will absorb the properties of the ingredients you are using. Don't "clean out the fridge or pantry" to create your home remedies. Use fresh, high quality ingredients for the best results, and do not store the assembled-treatment any longer than the shelf life of the *most* perishable ingredient. In addition, take care to research the properties of all essential oils you plan to use in a recipe. Some are photo-sensitive and can contribute to burning when in the sun, and others are harmful during pregnancy. See our Essential Oils List as a start, but research fully. Finally, insure the containers or jars you will be using are sterile by boiling them in hot water. This will help prevent contamination of your finished product, which could lead to spoilage.
---
photo credit: TheAlieness GiselaGiardino²³

November 1, 2012 | Kitchens Spa Index DIY