Ginger Dry Skin Creme
This recipe for ginger dry skin creme is infused with fresh ginger, nourishing oils and cocoa butter. Ginger invigorates and the oils soothe — a perfect double dose for dry skin.  This recipe first appeared on SpaIndex.com in December 2002 as a cold weather remedy and we're still making it every Winter. Sometimes we use coconut oil in place of the cocoa butter, but we prefer it with cocoa butter as it is a little more solid. Use whichever you have on hand and prefer.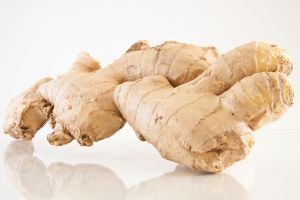 Courtesy of:
SpaIndex.com | Spa Lifestyle Daily
Ingredients
2-inch piece of fresh ginger -or- 1/8 teaspoon ginger juice
2 teaspoons light sesame oil
2 teaspoons apricot kernel oil
2 teaspoons vitamin E oil
½ cup cocoa butter
Method
Preheat oven on lowest setting.
Finely grate the ginger and extract 1/8 teaspoon of ginger juice. To obtain the juice, squeeze the freshly grated ginger over a small bowl or press it in a garlic press.
Place the ingredients (including the grated ginger if you used fresh) in a glass container and heat just until the cocoa butter is melted and the oils are blended.
Strain out the grated ginger if applicable.
Pour into a clean, dry container and store in a cool dry place.
You can add a few drops of orange or other essential oil for a nice twist.
November 13, 2013 | Kitchens Spa Index DIY