Gigante Bean Salad with Black Olive and Pesto Recipe
Nestled in the sand on the Santa Monica coast in California, Shutters On The Beach is a favorite luxury seaside resort, serving up fresh and delicious food with style year-round.   In The Summertime Anytime Cookbook, Dana Slatkin shares 130 irresistible recipes from her family's celebrated hotel for any day or night at the beach, including this delicious salad.
Gigante beans are those giant white beans that you may have eaten once on a trip to France, Greece, or the United Kingdom. An American substitute would be Butter Beans.   Meaty and flavorful, these jumbo-sized lima beans will delight your guests. Toss them with oven-dried tomatoes, a perky black olive dressing, and basil pesto for a multilayered first course that's sure to please.
Gigante Bean Salad with Black Olive and Pesto Recipe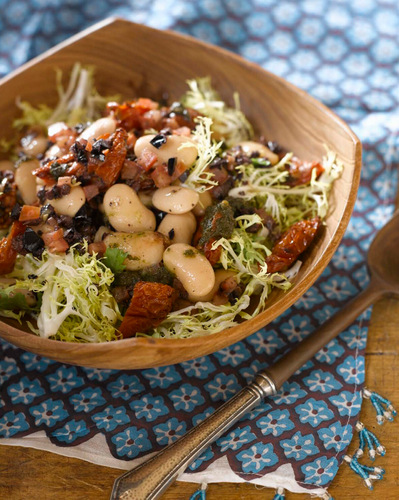 Courtesy of:
Shutters on the Beach
Ingredients
1⁄2 cup extra-virgin olive oil
3 tablespoons seeded and diced fresh tomato
3 tablespoons finely diced black olives, such as niçoise or kalamata
2 teaspoons grated lemon zest
3 loosely packed cups frisée leaves or watercress sprigs
2 (15-ounce) cans gigante beans, butter beans, or other giant white beans, rinsed and drained
1-1⁄2 cups diced oven-dried Tomatoes
1⁄2 cup basil pesto
1 tablespoon balsamic vinegar
Kosher salt and freshly ground black pepper
Method
In a small bowl, whisk together the olive oil, fresh tomato, olives, and lemon zest
Season this dressing with salt and pepper.
Refrigerate to marinate for at least 2 hours or up to 3 days
Bring to room temp before serving.
Arrange the frisée in the middle of a serving bowl or 6 plates.
Top with the beans and diced oven-dried tomatoes.
Drizzle the black olive dressing over the salad
Lightly drizzle a little basil pesto over the salad
Lightly drizzle the balsamic vinegar over the salad
Season with salt and pepper, and serve immediately.
Notes
If the cheese is omitted from the pesto, this could be converted to vegan.
---
 

September 24, 2012 | Spa Index