Fudgy Fig Nut Brownies
Moist, chewy and so easy, this recipe for Fudgy-Fig-Nut Brownies is made with rich dark chocolate, crunchy toasted walnuts and surprise-sweet — figs. Taste and health have joined together with simple directions to deliver brownies fit for every day or special occasions such as Spa Parties, Office Pot Lucks, Father's Day, Fourth of July and Birthdays.

Amber-colored golden figs and dark purple Mission figs star as the special secret ingredients that make these brownies so unique and so delicious. The tiny crunchy seeds and sweet, chewy flavor of the figs complement the toasted walnuts and smooth dark chocolate.
Health-conscious cooks are excited to learn that dark chocolate contributes health-promoting flavonol antioxidants; dried figs offer a unique array of essential vitamins and minerals and an excellent amount of dietary fiber; and walnuts deliver essential omega-3 fatty acids and "good" monounsaturated fats.
Figs are also great for snacking because they are so portable and convenient, along with being a nutrient-dense fruit. Three to four figs provide 6 percent daily value (DV) iron, 6 percent DV calcium, 6 percent DV magnesium, 6 percent DV vitamin B6 and 8 percent DV copper.
Better Brownies
Figs, chocolate and walnuts--nutrition and taste come together in one delicious brownie.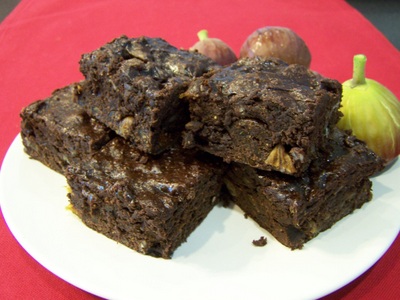 Courtesy of:
SpaIndex.com | Spa Lifestyle Daily
Ingredients
3 large eggs
1-1/4 cups granulated sugar
1/4 cup canola oil
1 teaspoon vanilla extract
1 ounce unsweetened chocolate, chopped
1 cup all-purpose flour
2/3 cup unsweetened cocoa powder
1/4 teaspoon salt
1 cup stemmed and chopped dried Golden or Mission Figs
1/3 cup chopped, toasted walnuts
Method
Preheat oven to 325̊. Coat 8-inch square baking pan with nonstick spray.
In medium bowl, lightly beat eggs with wire whisk. Add sugar and whisk until well-blended. Whisk in oil and vanilla.
Melt chocolate in small bowl in microwave oven on 50 percent power for 2 to 3 minutes, stirring every minute. Whisk chocolate into egg mixture.
In small bowl, stir together flour, cocoa and salt. Stir flour mixture into chocolate mixture, blending until smooth; batter will be stiff. Stir in figs and walnuts.
Spread batter in baking pan. Bake for 35 minutes or until pick inserted in center comes out with a few crumbs attached. Cool in pan on wire rack. Cut into 16 brownies.
Notes
Use your favorite sugar substitute to taste in place of sugar, if you prefer.
By the Numbers
| Cal:
191
| Fat (g):
7
| Carbs (g):
29
| Sodium (mg):
65
| Fiber (g):
2
| Protein (g):
3
| Chol (mg):
40
---
 

September 17, 2013 | Kitchens Spa Index