Eslor Skincare Review
We send people to spas, we visit spas ourselves, and we consult with many spa vendors manufacturing and offering skin care products, equipment and services. We know a thing or two about spas and the spa lifestyle.   Still, if you had asked three months ago what our staff members consider their a go-to skin care line, we'd all answer "it's kind of a nightmare — it changes all the time because it has to."
A restaurant critic may have a favorite place to dine, but chances are, she visits her favorite far less frequently than she'd like because her time is devoted to the list of restaurants awaiting a critique.
And so it goes with skin care.  When you visit an aesthetician with whom you have an ongoing relationship, you'll be using the skin care line recommended by that aesthetician for home use, and, relying on his or her expertise for specialty skin care services throughout the year.   But, if you visit many aestheticians in a year, either to "secret shop" for spa reviews, to tour spas which are members of our directory, or, because you travel frequently, you don't have the luxury of developing a favorite skin care line, or, even if you do, you frequently "take a break" from it to evaluate other lines.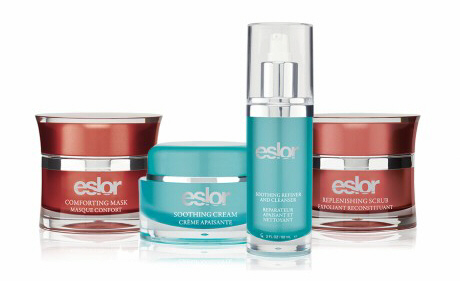 Three months ago, we were asked to use and evaluate skin care manufactured and sold by Eslor. We were happy to do so, and eager to try what was described as an all-natural line developed by a pharmacist.  The only caveat was that we generally never review skin care that we have not had the opportunity to use for at least 90 days, and, with sufficient quantity to try, evaluate and compare the various aspects (cleansing, moisturizing and treating) to other lines.  As much as we love foil packed samples and mini bottles of new or popular products, any impressions are fleeting at best and would seldom aid in "making in a switch."
Fortunately, Eslor Skin Care provided us with the complete line, and our staff, made up a variety of ages and both men and women, each with different skin care needs, circled the table and studied the materials and products before each marched off to try the line.  Here we are, three months later, and to a person, we are quite pleased with the results.
All products in the Eslor skin care line have been formulated to be paraben and sulfate free and include natural plant extracts. Each natural extract contains key active ingredients that perform a specific function  — and best of all — no mystery names requiring a degree in chemistry.  You'll recognize most.
Why is Paraben and Sulfate Free so important?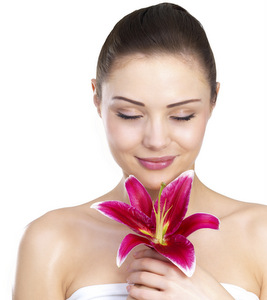 Sulfates are chemicals derived from sulfur, and are essentially acids and cleaning agents. The most common uses include car batteries as sulphuric acid, and in shampoos and soaps to produce lather and increase cleansing.  They do have positive uses, such as magnesium sulphate in Epsom salt.  You don't use Epsom salts on your face however (or battery acid for that matter) and we like to leave sulfates out of our shampoo and skin care because they are commonly known to cause scalp irritation, clogged pores, and dry skin.
Parabens are preservatives in cosmetics and grooming products.  According to the Food and Drug Administration, parabens are esters, a compound formed from acid and alcohol, the most common of which are methylparaben, propylparaben and butylparaben (see what we mean about those chemistry names?).   Manufacturers use parabens to extend shelf life and prevent growth of bacteria and fungi, which can grow quickly, however, parabens have been linked to fertility issues and increased risk of developing cancers.
Does this mean paraben-free skin care gets moldy or spoils more quickly?  Not necessary, and not if you substitute parabens with naturally derived, plant-based alternatives.   Eslor skin care does so, but focuses on alternatives which each serve a specific function:  Improving your skin and maintaining a quality product.
Eslor offers three collections which are sufficient for almost all skincare needs.  Some of the products cross-over from one collection to another because they are suitable for everyone, while others target specific needs.
The Healthy Aging Collection
"Formulated to help your skin regenerate cells that weaken as we mature with Marine Collagen and other natural ingredients known to improve cellular renewal to awaken your skin, improve elasticity and firmness for a natural healthy, youthful glow."
This collection consists of 6 products:   Replenishing Scrub, Comforting Mask, Chorophyll Lifting Mask, Firming Collagen Day Cream, Rejuvenating Day Cream, and Active Night Cream.
The Sensitive Skin Collection
"Specifically formulated with a selection of natural ingredients known to help calm inflammation and offer the skin protection, restoration and hydration from everyday external pollutants."
This collection consists of 4 products:  Soothing Refiner and Cleanser, Botanical Peeling Gel, Herbal Soothing Gel, and Soothing Cream.
The Targeted Collection
"Engineered with natural ingredients shown to help boost the synthesis of three natural skin filters: elastin, collagen and hyaluronic acid, to visibly diminish the look of wrinkles, dark spots and help skin regain a youthful appearance."
This collection consists of 3 products: Firming Eye Cream, Brightening Activator, and Herbal Soothing Gel.
The Regime
Fortunately, Eslor provides with all orders a very handy and simple to follow chart  on a small card which you can tuck in your vanity drawer or medicine cabinet.  It helps establish a schedule to cleanse, exfoliate, treat, sooth and moisturize, and, based on your individual needs, you select the appropriate weekly schedule.
Because our staff have a variety of skin care needs, we were able to thoroughly evaluate one another's progress after three months following the recommended frequency of use, but you don't need to read about five different schedules, so we've summarized our use as follows:
We washed twice a day with the Soothing Refiner and Cleaner. This is a wonderful, bright and happy smelling cleanser full botanical ingredients which were gentle but thorough.  This product contains Aloe Vera Gel, Sage Leaves Extract, Carrot Extract, Rosemary Extract, and Glycerin.
We exfoliated twice weekly with either the Replenishing Scrub or the Botanical Peeling Gel.   We masked periodically with either the Comforting Mask or the Chlorophyll Lifting Mask.   The Lifting Mask was interesting.  It looks like a jar of green jelly but is full of natural milk proteins, plant extracts, seaweed extracts, and minerals, which tightened our skin.  The active ingredients in that mask are Aloe Vera Gel, Glycerin, Milk Protein, Lactose, Algae Extract, Wheat Protein, Guar Gum, Yarrow Flowers Extract, Orange Peel Extract and Sodium PCA.
Daily, we used the Brightening Activator, under our makeup or  for the men, after a gym shower.    We loved this product, as we'll explain more below.
Daily, we used Firming Eye Cream to reduce puffiness and dark circles, and, various of the moisturizers and creams depending on our needs.
The general consensus among all staff was that collectively our skin was more radiant, tender, clear, and rejuvenated, and that the products were not just effective, they were a pleasure to use.  We wanted to enjoy the products, not just appreciate them, and we certainly did.  This is largely because of the wonderful aromas, perfect texture and appropriate viscosity.   Skincare can be a messy business.
For one of us with rosacea, using the sensitive skin care collection, there was no flare up of inflammation so common with switching skincare or using a line which is too abrasive.  Instead, her skin was noticeably more luminous, soft, clear, and even toned.
For others with aging or other challenges, they each agreed they felt their skin was more plump, even toned, bright, and youthful.
For our male with pretty much perfect skin already, he felt his skin was smooth, finely textured, and he appreciated feeling exfoliated without being "overly scrubbed."  He appreciated the herbal scents and natural plant extracts which helped make the line feel and smell less "female oriented."
The standout products have to be mentioned.  To a person, we simply loved the Botanical Peeling Gel, the Herbal Calming Gel, and the Brightening Activator.  
The Botanical Peeling Gel was remarkable.  With a thin, even layer applied (less is more, here — it worked better with less product) to our face, and a brief of 2-3 minutes, we massage our faces with our fingers and watched dead skin peel away in tiny rolls, ready to be rinsed.  This was particularly nice with dry skin around the nose, ears and hairline. It refined our pores and reduced shine.    This product contains Aloe Vera Gel, Glycerin, Chamomile Extract, Sodium PCA, Papaya and Pineapple Enzymes, Essential Oils, Glycosaminoglycans and Sea Buckthorn Oil.
The Herbal Soothing Gel was most appreciated by our rosacea sufferer, who felt it tamed her cheeks and nose and readied her skin for a day in the urban jungle.  This product contains Aloe Vera Gel, St. Johns Blossoms Extract, Arnica Blossoms Extract, Calendula Blossoms Extract and Chlorophyll.
The Brightening Activator, however, was the single most favorite product in the bunch. With a blend of anti-oxidants, vitamins, and pure essential oils, it optimizes protection, helps the skin preserve youthfulness, and minimizes the appearance of fine lines and age spots.  It promised a firmer, brighter, more youthful look, and it delivered.
This texture of this product reminded us of the popular Dermalogica Barrier Repair and Smashbox Silicon Primer, but Eslor's Brightening Activator exceeded both of those competitors in terms of texture, application, aroma, and results. It was a perfect base for applying cosmetics, or, if we just needed a quick fix during a make-up free day.  The aroma is heavenly — citrus combined with warm notes, like a sophisticated orange-vanilla balm.  Our skin felt and looked more youthful, definitely looked brighter, and evened out age spots and freckles.  We love this product.
This active ingredients in this product are Vitamin C, Vitamin A, and pure Essential oils of Lemon, Orange and Mandarin.
At the end of the three month period, our round table discussion was brief and simple.
"Will you buy this product line on your own?"  Yes.
"Will you use this product instead of others you've been using?"  Yes.
"Will you recommend this produce line to others?"  Yes.
So we've been privileged to find a skin care line we are happy to put on our home vanity tables.  We'll still be traveling and meeting with aestheticians and cosmetologists who each have wonderful products to recommend, but we'll come to the table with better skin because we're using Eslor as our daily regime at home.
If you'd like to try this line that we enjoy so much, Eslor has recently introduced trial sized kits so you can experiment with one or more lines and get a good feel for using it for a month or more, before committing to full-size products.   Eslor prices are comparable with quality skin care.  The line is not available in stores, but is available to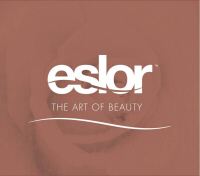 aestheticians through a wholesale program, and to the public via online ordering.
Of perhaps less importance to others, but of note to us:  The products are packaged very well in quality jars and bottles, with smooth operating pumps and lids.  That may seem trivial, but it isn't.  It's maddening to fight the pump, pour spout, lid or other contraption on a product you use daily, or, have a product too heavy for its underweight jar so that it seldom remains upright at the slightest jostle.   By using quality dispensers and jars, Eslor eliminates that maddening feeling.
You can find Eslor online,  Facebook, Twitter, and Pinterest.   Tell them SpaIndex sent you and they'll take good care of your skin, too.
---

About Our Review

SpaIndex.com was provided with complimentary products to evaluate and review this product line. No assurance of positive reviews or opinions are given following our evaluation of products sent to us by vendors. Our opinions are fully our own.

February 8, 2014 | Spa Index Reviews