Egg White Berry Crepes
Christine Denney, the chef for the Oaks at Ojai health spa in California, created these guest-favorite Egg White Berry Crepes, in a very unique way.  Forget the butter and flour, these use egg whites and milk powder for a thin, light, and very spa like crepe, the perfect vehicle for your favorite berries or fruit.  As an added benefit, they are naturally low-carb, gluten-free and offer protein.  Serve them for breakfast, lunch or dinner, with a variety of ingredients. 
Egg White Crepes
Make these light and airy crepes for breakfast, lunch or dinner. Equally good with sweet or savory ingredients -- it's all about the filling, here.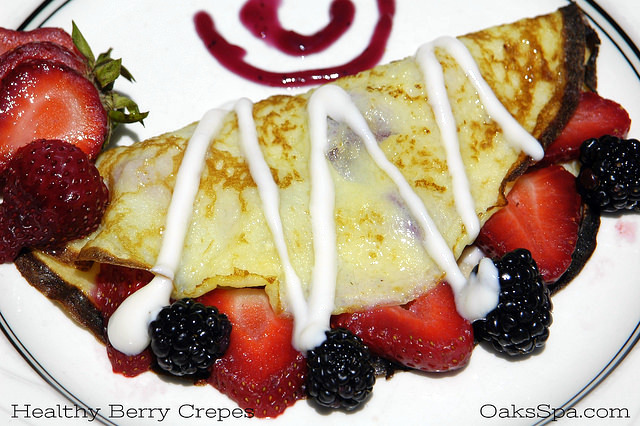 Ingredients
1/2 cup nonfat liquid milk
2 tablespoons nonfat milk powder
4 egg whites
Method
Combine milk, milk powder, and egg whites in a bowl and whisk to mix very well.
Coat a crepe pan with nonstick spray and heat on low to medium until hot (a drop of water will sizzle).
Add one ounce of crepe mixture to the pan and tilt to distribute batter evenly over the bottom of the pan.
Cook over low heat until firm. To finish the crepe, you can carefully turn it over or brown crepe under the broiler. Turn crepe out onto baking pan to cool.
Notes
If you are making several, layer the crepes with waxed paper or parchment to keep crepes from sticking together. These crepes can be filled with The Oaks' own fresh jam, or fresh fruit of your choice, cut up fairly small. Strawberries with mango is delicious. Garnish with nonfat yogurt flavored either with lemon curd or a touch of agave and vanilla extract.
By the Numbers
Serving size:
1 Crepe
| Cal:
15
| Fat (g):
0.1
| Carbs (g):
1
| Sugar (g):
1
| Sodium (mg):
35
| Protein (g):
2.5
| Chol (mg):
0.3
More about the Oaks at Ojai:
The Oaks at Ojai is an all-inclusive destination spa in California, a healthy retreat offering guests a range of activity from guided hikes into the mountains, to water aerobics, to restorative yoga.    As an American Plan Spa, The Oaks provides a well-rounded calorie-conscious food plan that consists of three meals, snacks and beverages. The varied menus feature natural foods, fresh fish and poultry, locally-grown fruits and vegetables, homemade salad dressings and soups – all without a touch of additional salt or refined sugar used in the preparation.
---
May 15, 2016 | Spa Index Favorites, Oaks at Ojai