Quick Egg Drop Soup
The groaning table of Thanksgiving has been cleared, the leftovers are hopefully gone, and the question what do fix that's light, flavorful, quick and easy — Quick Egg Drop Soup is the answer.   This light but nutritious Egg Drop Soup is  easily customized to your personal preferences. It's gentle on the stomach, ideal for bariatric patients or those recovering from an illness, and a good way to hydrate with a meal after a workout.   We like to use homemade broth, but store bought will work fine provided it's low sodium.  It's particularly nice with a handful of chopped steamed asparagus.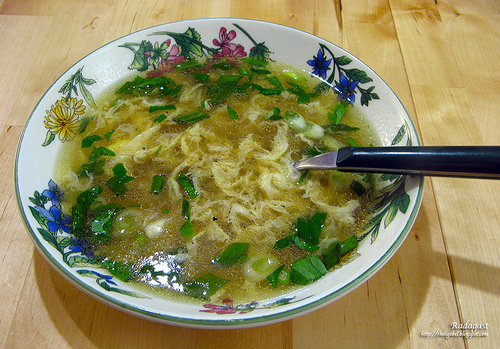 Courtesy of:
SpaIndex.com
Prep time:
Cook time:
Total time:
Ingredients
2 cups homemade or low-sodium chicken stock
2 tablespoons cold water
1 tablespoons cornstarch
1 egg, slightly beaten
1 handful of frozen green peas
1 handful of chopped mushrooms
1 green onion, diagonally sliced with tops
Method
Heat stock until fully boiling.
While heating stock, mix cold water and cornstarch in small bowl and set aside.
Beat 1 egg and set aside.
When stock is fully boiling, add cornstarch liquid into broth and return to a rolling boil. Stir 1 minute.
Slowly pour beaten egg into broth, stirring constantly and quickly with a fork or skewer to form slender long threads of egg.
Add mushrooms and peas, and stir only until peas are thawed and heated.
Immediately remove from heat.
Garnish with green onions and serve with soy sauce to taste.
Notes

Customize to your liking with carrot slivers, asparagus, jalapeno, shrimp, or other lean proteins.

photo credit: Radagast via photo pin cc
---
 

November 26, 2012 | Spa Index