Vanilla Rose Bath Bombs
Mold these vanilla rose bath bombs in a muffin tin, ice cube tray, or with your hands and enjoy a nice warmly scented bath whenever you desire.

Vanilla Rose Bath Bombs
Makes 7 medium sized bombs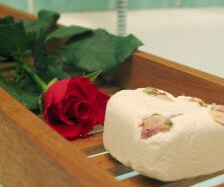 Courtesy of:
SpaIndex.com | Spa Lifestyle Daily
Ingredients
1 1/4 cups baking soda or bicarbonate of soda
1/2 cup citric acid
2 tsp of almond oil or apricot kernel oil
Dashes of water
5-10 drops vanilla fragrance oil or essential oil or vanilla beans from 2 pods
5-10 drops rose fragrance oil or essential oil
Dried Rose Petals
Method
Combine all dry ingredients in a bowl and stir until well mixed.
Drizzle in almond oil and food coloring and stir until mixture is moistened.
Add fragrance oil or vanilla bean innards and mix again.
If the mixture is crumbly then add more oil or a dash of water.
Roll the mixture into a ball using your hands or press it into a lightly oiled mold.
After molding balls or shapes, put out of the molds gently and place on a sheet wax paper.
Leave to dry for several DAYS, until rock hard.
Bag or place in jars and use accordingly.
Notes
We used a heart shaped silicone mold, but for smaller versions we've used a Madeleine pan, ice cube trays and silicon mini muffin molds. All work well, and make smaller bombs (and thus more quantity).
---
January 27, 2012 | Kitchens Spa Index DIY