Trio of DIY Cuticle Treatments
Don't let dry cuticles snag your clothes, hose, crafts, or worse, tear and cause injury. Keeping them moisturized with these DIY cuticle treatments will help nail growth and strength.
Hand Spa DIY Trio of DIY Cuticle Treatments
Don't overlook your toes!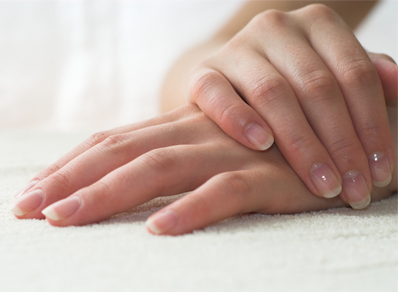 Courtesy of:
SpaIndex.com | Spa Lifestyle Daily
Ingredients
Basic Cuticle Cream
1 tablespoon fuller's earth (a natural clay substance)
1 teaspoon olive oil
3 drops lavender essential oil

Apricot Oil-Lanolin Cuticle Cream
1/2 teaspoons apricot kernel or emu oil
2 teaspoons lanolin
1 drop essential oil of your choice (optional)

Cuticle Softener
1 teaspoon olive oil
1 teaspoon vitamin E oil
Method
Make Basic Cuticle Cream by mixing ingredients into a paste and storing in a sterile ointment jar or small pot. Massage into nails and cuticles.
Make Apricot Lanolin Cuticle Cream by warming oils together, add essential oil, pour into jar or small pots and let set. To use, massage into cuticles.
Make Cuticle Softener by combing oils in a small pot and massaging into cuticles each night before bed.
---
---
December 19, 2012 | Kitchens Spa Index Clay, DIY, Lanolin, Lavender