Citrus Salt Glow
This DIY spa treatment was a customer favorite of soap and bath product provider "Between Friends Too" (now 1 Raw Plant).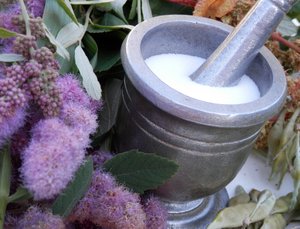 Ingredients
1/2 cup fine mineral salts
1/2 cup fine dead sea salts
8 oz Macadamia nut oil
40 drops ruby red grapefruit essential oil
20 drops lemon essential oil
10 drops ylang ylang essential oil
Method
Stir essential oils into the macadamia nut oil.
Add the salts and mix well.
Pour into a hinged tight sealing jar.
To obtain radiant skin with intense moisturizing, swirl your salt glow with your fingertips or spoon to blend.
Scoop out a generous amount and apply with hand, washcloth or loofah to entire body.
Step into shower stream and watch your salt glow bead up and roll off your skin.
For a comfortable shave, apply your salt glow prior to shaving, then rinse.
Avoid any cuts or scrapes on your skin.
Notes
You can substitute the Macadamia nut "carrier oil" with other carrier oils (i.e. pistachio oil, sweet almond oil, hazelnut oil or a mixture of oils).
---
Photo:  Miriam Wickett


December 19, 2002 | Kitchens Spa Index DIY