Cranwell Resort & Spa Lemongrass Poached Halibut
Cranwell Resort Executive Chef created this Lemongrass Poached Halibut to serve at the resort's Wyndhurst at the Mansion and it's already a seasonal favorite.   "I love trying new things out in the kitchen and putting ingredients together that I know work well and compliment each other."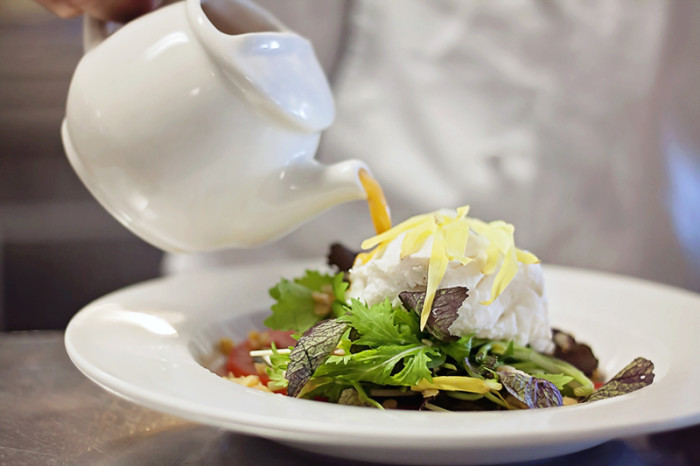 Lemongrass Poached Halibut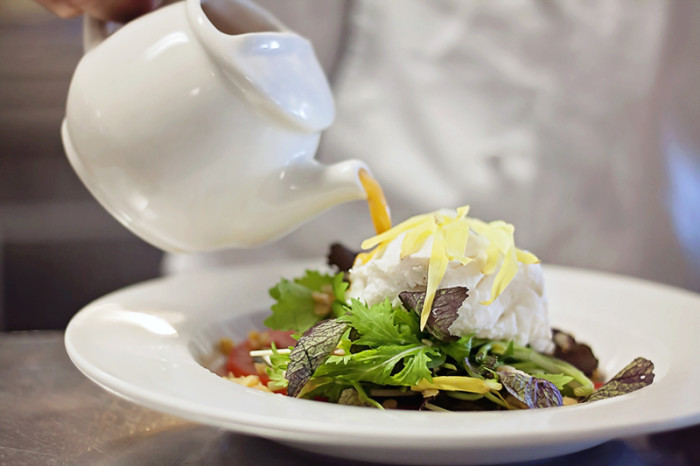 Ingredients
For the Entree
Halibut, skinless and boneless, 7-8oz
Poaching Liquid
1 stalk lemon grass
1 lemon (juiced)
1 Spanish onion chopped
6 black peppercorns
1 cup white wine
2 cups water
Salad
4 cups salad greens
1 handful micro greens
salt and pepper to taste
Tomato Consommé
1 fennel bulb, coarsely chopped
3 vine ripened tomatoes
1 1/2 cups white wine
1 tablespoon butter
salt and pepper to taste
1 cup water
Garnish
4 slices of vine ripe tomato
1 pinch of micro greens
Method
Start tomato consomme
Sweat the fennel bulb and butter together until soft.
Add the remaining ingredients and simmer together for 30 minutes.
Blend together in blender and strain through a cheese cloth into another pot.
Poach the fish
Combine poaching liquid ingredients and bring to a simmer.
Poach halibut in simmering poaching liquid for 10-12 minutes.
Make the salad
Place 4 tomato slices in the bottom of a shallow bowl.
Place salad greens on top of the tomatoes.
Place poached halibut on top of salad greens.
Place micro greens on top of fish
Serve
Pour hot tomato consommé over the fish and around the salad
Serve immediately
Notes
This recipe looks rather exotic, but is very adaptable based on what greens are in your region. Even braised greens are a good base for this sturdy, firm fish. Cranwell uses Popcorn Shoots, a bright yellow shoot from sprouting corn, but you can use your favorite greens and shoots. Pea shoots are fantastic, and so is blanched asparagus! Also great with salmon.
---
 

 

May 11, 2015 | Spa Index Seafood