Cranberry Pistachio Biscotti
Our recent Recipes for Living cooking and eating tour of Italy with our Green Mountain friends inspired us to try our hand at making authentic Italian dishes. One traditional food we sampled many times was biscotti — a favorite treat with an afternoon coffee or after dinner with a glass of Vin Santo. While this recipe no doubt came from Italy originally, this version came from one of our friends on the tour.  —  Green Mountain at Fox Run, Vermont

Cranberry Pistachio Biscotti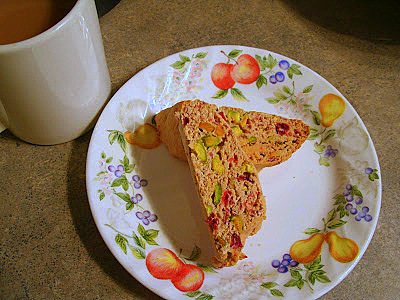 Ingredients
1 1/2 cups dried cranberries
2 1/2 cups unbleached all-purpose flour
1 cup sugar
1/2 teaspoon baking soda
1/2 teaspoon baking powder
1/2 teaspoon salt
3 large eggs, slightly beaten
1 teaspoon vanilla
1 cup salted shelled natural pistachios
Method
Preheat oven to 325 degrees.
In a small bowl, cover dried cranberries in boiling water and soak until softened, about 10 minutes. Drain and pat dry with paper towels.
In a large bowl, combine flour, sugar, baking soda, baking powder and salt.
Add eggs and vanilla and beat just until dough forms.
Add cranberries and pistachios and mix well (using spoon or by hand).
Turn dough onto a floured surface and knead several times.
Halve dough and then form each half into a 13-by-2 inch slightly flattened log. Place logs on a greased and floured baking sheet, using floured hands and spacing logs about 3 inches apart.
Bake in middle of oven until golden, 25 to 30 minutes.
Cool logs on baking sheet on a rack for about 10 minutes.
Transfer logs to a cutting board and cut diagonally into 1/2 inch slices with a serrated knife.
Arrange slices, cut-side down, in a single layer on baking sheet (don't worry if slices touch each other).
Bake in middle of oven, turning once, until golden and crisp, about 20 to 25 minutes total.
 

Photograph courtesy of Torrey Drum, winner of a  $50 gift card from SpaIndex.com and a copy of "Recipes for Living" by Green Mountain at Fox Run

March 12, 2012 | Kitchens Spa Index Green Mountain at Fox Run