Cold Oatmeal with Yogurt and Fresh Berries
We first learned to love cold oatmeal in Hawaii, of all places. We were intrigued by the cold, creamy scoop of what locals were calling muesli after the dish of soaked grains and dried fruits made popular at the turn of the century by Swiss physician Maximilian Bircher-Benner for patients in his hospital.  The original Bircher muesli consisted of grains and fruit soaked overnight with water and lemon juice, and then eaten with yoghurt. We knew about that dish, but the version served in Hawaii was decidedly more luxurious and fattening, thickened with cream, bananas and fresh coconut.   We wanted more of it, but without extra calories. 
We adapted our own version by soaking yogurt, oats, dried fruits, and fat free milk, and enjoyed serving it cold for breakfast the next morning — it's not unlike rice pudding.  Then we found this recipe for a version we love. Try it as a cold breakfast during warm months.  It totes well for breakfast at work and school, as well. 
Cold Oatmeal with Yogurt and Fresh Berries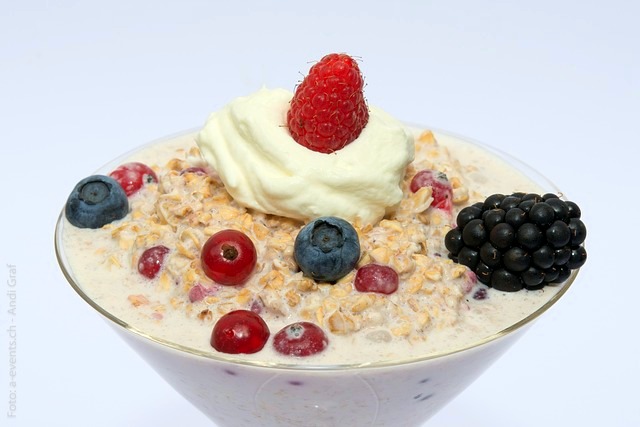 Courtesy of:
Adapted from Dr. Janet Brill: 8 Foods, 8 Weeks to Reverse Heart Disease (Three Rivers Press, 2011)
Ingredients
1 1/2 cups quick-cooking oats
3/4 cup fat-free vanilla yogurt
1/2 cup orange juice
1 tablespoon honey
3/4 cup fresh raspberries
3/4 cup diced strawberries
1/2 cup fresh blueberries
1/2 medium apple, peeled, cored and coarsely grated
3 tablespoons ground flax seed
1/4 cup chopped walnuts
1/4 teaspoon ground cinnamon
Method
In a large bowl, combine the oats, yogurt, orange juice and honey.
Let stand 5 minutes.
Gently fold in the raspberries, strawberries, blueberries, apple, flax seed and walnuts.
Sprinkle with cinnamon.
Cover and refrigerate overnight.
Serve cold, garnished with berries, yogurt, or nuts and seeds if you have them, for crunch.
Notes

We use old fashioned oats (not quick), and we like to add some steel-cut oats as well, just a handful, for additional texture. We prefer this blend as it stands up more to soaking than quick oats. But, use what you have!

We also love this with good quality dried berries and fruits, because they don't bleed fruit juice, and it's easier to tote to work for breakfast on the go.

For a Hawaiian version, use coconut milk, and add shaved coconut, dried pineapple, and dried or fresh banana. Fresh pineapple tends to bleed too much.

Lastly, we love fat free Greek yogurt, but pre-flavored Vanilla versions tend to have too much sugar. Really you just need to mix vanilla extract with plain, fat free Greek Yogurt and you'll have plenty of sweet taste from the honey and fruit.

By the Numbers

Serving size:

1/2 cup

| Cal:

202

| Fat (g):

7

| Carbs (g):

31

| Fiber (g):

6

| Protein (g):

7

 

June 4, 2015 | Spa Index