Chocolate Dipped Rice Cakes
This dessert is so simple, and isn't restricted to the holidays.  With just three ingredients (and sometimes 2) you can have a crunch, sweet, low-fat treat. Use your favorite rice cake or puffed corn cake, melt semi-sweet good quality chocolate chips (or your favorite carob or peanut butter chips), add a drop of two of extract if desired, and you've got a light, satisfying dessert.

Chocolate Dipped Rice Cakes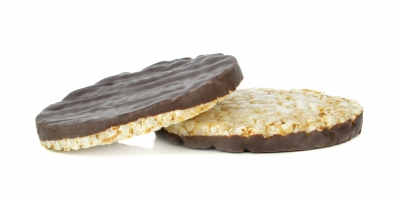 Ingredients
6 Rice Cakes - or - Puffed Corn Cakes
1/2 cup Semi Sweet Chocolate Chips -or- Peanut Butter Chips
Optional: Extracts of Choice
Optional: Sea Salt
Method
Melt the chips over low heat in a double boiler, or, gently melt in your microwave, watching carefully and stirring often, in 10 second increments, until smooth.
Add 1-2 drops of extract, if any, and stir until blended.
Pour melted chocolate in a shallow dish.
Spread wax paper or parchment on a cookie sheet.
Dip the rice cakes in the melted chocolate and place chocolate-side up on the wax covered cookie sheet. A silicone brush is useful for getting chocolate into nooks and crannies.
Sprinkle with sea salt, if desired.
Put cookie sheet in the fridge to firm up the chocolate.
Store in individual wax sandwich bags after chocolate is firm.
Notes
The calorie count is based on semi-sweet chocolate chips and no additional toppings. Be sure to factor in the different count for peanut butter chips and any toppings added. There are many variations we like, including:
Chocolate Peanut: Use equal portions of chocolate and peanut butter chips
Chocolate Orange: Chips + 1-2 drops Pure Orange Extract
Chocolate Almond: Chips + 1-2 drops Pure Almond Extract
Chocolate Mint: Chips + 1-2 drops of Mint Extract
Chocolate Coconut: Chips + 1-2 drops of Coconut Extract
Chocolate Rum: Chips + 1-2 drops Rum Extract
Bluth Cakes: Chips + 1-2 drops of Banana Extract + chopped Almonds
By the Numbers
Serving size:
1
| Cal:
128
| Fat (g):
5.6
| Carbs (g):
19
| Sodium (mg):
2.3
| Fiber (g):
0.4
| Protein (g):
0.7
---
 

Photo courtesy of Mr. GC

November 23, 2014 | Spa Index Favorites