Chicken Salad with Spinach and Pasta
This recipe for Chicken Salad with Spinach and Pasta is a guest favorite at the New Life Hiking Spa, a nationally recognized affordable destination spa located in the beautiful Green Mountains of Vermont. Known for it's exhilarating hiking program, delicious healthy meals, and a comfortable country inn atmosphere, New Life is truly a unique vacation experience.

Whether your goal is to get outside and hike, lose weight, get back on track physically, de-stress mentally, meet new people with similar interests, or to get together with an old friend or family, New life offers a wide range of activities to help you reach your next level of physical and emotional wellness. Single men and women, couples, mothers-daughters, father-sons, siblings, small groups and more will find a friendly supportive environment for their mind-body tune up.
Chicken Spinach Pasta Salad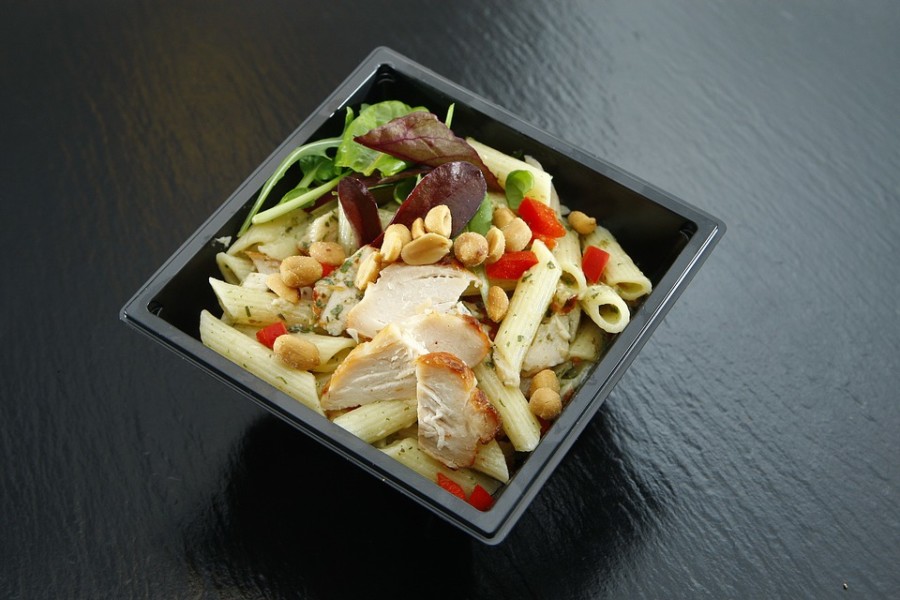 Ingredients
6 oz. pasta twists or tubes
1/2 cup sesame seeds (or use peanuts, see note)
1/2 cup light sesame or extra virgin olive oil
1/3 cup wine vinegar
1/3 cup soy sauce
2 tablespoons sugar or honey
1/4 teaspoon pepper
3 cups cold, shredded cooked chicken
1/2 cup finely chopped parsley
1/2 cup thinly sliced green onion
8 cups lightly packed torn fresh spinach (2 bunches)
Method
Boil pasta, drain. Set aside to cool.
Saute sesame seeds in ¼ cup oil in fry pan, stirring until golden.
Remove seeds and set aside to cool, but leave oil in pan.
To the pan, stir in remaining oil, vinegar, soy sauce, sugar or honey and pepper.
Warm the sauce, and add the cooled seeds back to the sauce.
Pour sesame sauce over cooked, cooled pasta
Add shredded chicken and toss lightly.
Cover and chill for at least 2 hours or overnight.
To serve, add parsley, onions and torn spinach.
Toss gently again.
Notes
Try this dish with a handful of crunchy roasted peanuts in place of sesame seeds if desired -- but only a modest handful to keep the fat calories under control. Skip the saute step, as well.
---
About New Life Hiking Spa:
Founded in 1978, and now celebrating 40 years of wellness hospitality, New Life Hiking Spa has been a pioneer in the destination spa industry and is nationally recognized as an affordable fitness and wellness destination.  It offers seasonal hiking and weight-loss retreats in the Green Mountains of Vermont.  All-inclusive stays include hiking, fitness, yoga, massage, accommodations, meals, and more.

January 24, 2016 | Spa Index New Life Hiking Spa