Cauliflower Flatbread with Pesto
Christine Denney, the chef for the Oaks at Ojai health spa in California, created this guest-favorite Cauliflower Flatbread with Pesto entree as an alternative to flour based pizzas and focaccia. You can find it in the Recipes from the Heart cookbook available the spa.  Terrific for lunch or make it an entree by topping it with tomato sauce and your choice of other toppings, such as sautéed mushrooms and onions, and dusted with a bit of parmesan or cheese of your choice. 
Cauliflower Flatbread with Pesto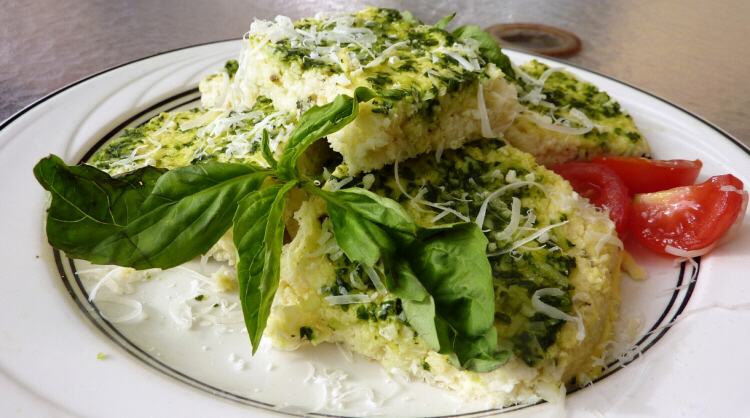 Ingredients
For the Flatbread
4 cups raw cauliflower "rice"
1 egg, beaten
1/3 cup soft goat cheese
1 teaspoon dried oregano or basil
Pinch of salt
For the Pesto
1 cup basil leaves
1/4 cup parmesan cheese
1/4 cup olive oil
1 1/2 teaspoons minced garlic
Pinch of black pepper
Method
For the Pesto
Process pesto ingredients in a food processor or blender until smooth.
Spread on fully baked cauliflower flatbread and heat again slightly, as instructed.
For the Flatbread
Preheat the oven to 400 degrees
Pulse batches of raw cauliflower in a food processor until a rice-like texture is achieved. Measure after ricing.
Fill a large pot with about one inch of water and bring to a boil. Add cauliflower rice, cover and cook 4-5 minutes. Drain into a fine mesh strainer.
Transfer rice to a clean kitchen towel and wring out as much water as possible.
Beat together the egg, goat cheese, and herbs.
Mix the strained and drained rice with beaten egg, cheese and herbs.
Use your hands and mix very well to fully incorporate.
Press this "dough" onto a baking sheet lined with parchment paper until it is about 1/3 of an inch thick.
Make the edges slightly higher, if you like, to accommodate any toppings.
Bake this crust for 20-25 minutes until it is firm and beginning to brown.
Add pesto topping by spreading thinly, or other ingredients of your choice, and bake 5-10 more minutes until toppings are heated (and until cheese on top is melted, if using cheese).
More about the Oaks at Ojai:

The Oaks at Ojai is an all-inclusive destination spa in California, a healthy retreat offering guests a range of activity from guided hikes into the mountains, to water aerobics, to restorative yoga.    As an American Plan Spa, The Oaks provides a well-rounded calorie-conscious food plan that consists of three meals, snacks and beverages. The varied menus feature natural foods, fresh fish and poultry, locally-grown fruits and vegetables, homemade salad dressings and soups – all without a touch of additional salt or refined sugar used in the preparation.

March 19, 2016 | Spa Index Oaks at Ojai