Carrot Orange Soup – Grail Springs Retreat
This Orange Carrot Soup is a snap to make, totes well to work in a thermos, and is both sweet and savory thanks to carrots, orange juice, and curry powder.  Experiment with other spices if you prefer Latin flavors (cumin is wonderful in place of curry).   A perfect Autumn and Winter recipe.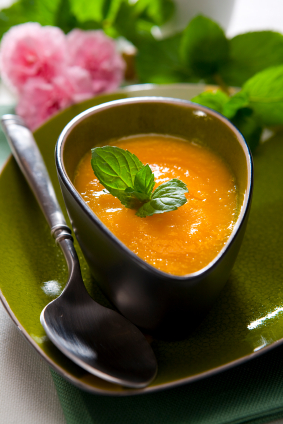 Ingredients
1 tablespoon olive oil
2 leeks, thinly sliced
6 large carrots, sliced
2 tablespoons curry powder
1 tablespoon grated lemon rind
1 cup organic or fresh pressed orange juice
2 cups vegetable stock
1 - 1/2 cups coconut milk
1/3 cup organic plain yogurt
2/3 cup cashew nuts, roasted, chopped
Mint
Method
Heat oil in saucepan over a medium heat. Add leeks. Sauté for 5 minutes until golden.
In a large saucepan, add carrots, curry powder, lemon rind, organic orange juice, and vegetable stock. Bring to a boil. Simmer for 10 minutes.
Cool soup base slightly, and puree.
Return soup base to saucepan and add coconut milk. Reheat for 4 or 5 minutes or until hot.
Serve soup topped with yogurt, nuts and mint.
---
 

November 16, 2015 | Spa Index Grail Springs