Canyon Ranch Spa Taco Salad
This simple salad by Canyon Ranch is a wonderful entree for a Southwestern luncheon. It is even easier and faster to make if you buy already baked corn tortilla chips (but watch to assure they are not high fat) and prepared fresh salsa at the supermarket or farmer's market. Serve the salad with spa guacamole on the side and fresh tropical fruit for dessert.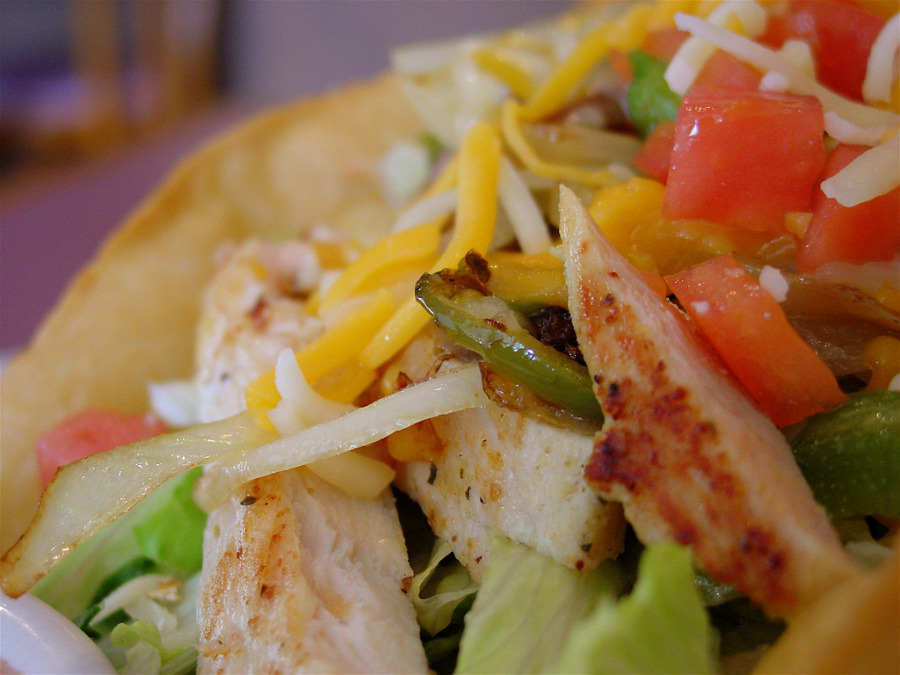 Courtesy of:
Canyon Ranch Spa
Ingredients
8 corn tortillas, cut into wedges
2 heads iceberg or romaine lettuce, finely chopped
3 large tomatoes, diced
4 ounces canned whole green chilies, cut into strips
3 cups diced cooked chicken or turkey -or- 3 cups cooked lean turkey or ground beef with southwest seasoning
1/2 cup grated reduced-fat cheddar or Monterey Jack cheese
1/2 cup light sour cream
2 cups Tomato Salsa
Method
Toast the tortillas in a low preheated oven until crisp. Set aside.
Combine the lettuce, tomatoes, and dressing in a medium bowl and toss thoroughly.
Divide the salad among 8 dinner plates. Garnish with the tortilla pieces and green chili strips.
Sprinkle equal amounts of chicken and cheese evenly over the top of each salad. Top each with 1 tablespoon of the sour cream.
Serve with a side dish of 1/4 cup salsa and a dollop of Spa Guacamole (not included in nutritional stats).
Notes

Tip: When we want to use sour cream as a garnish, one "small dollop" doesn't quite do it, but we still want portion control. Solution? Thin the sour cream with just a little bit of fat-free milk until the sour cream is "runny" and then drizzle over the dish like a dressing. Works like a charm.

Photo by Larry Hoffman

By the Numbers

Serving size:

2 cups

| Cal:

314

| Fat (g):

10

| Carbs (g):

21

| Sodium (mg):

204

| Protein (g):

33

| Chol (mg):

86

 

 

 

July 28, 2017 | Spa Index Canyon Ranch, Favorites