Canyon Ranch Holiday Eggnog
This delicious recipe was created by destination spa Canyon Ranch for its holiday guests. Treat your own guests this season with this healthy version of a holiday staple.

The history of Eggnog can be traced back to the 17th century, where it was most popular in England as a warm beverage during the cold winters. Warmed milk, eggs, sugar, and Sherry or Brandy was served in a noggin – a small, wooden mug. This warm nog became quite popular at Christmas, when it was served, both hot and cold, in large quantities to holiday visitors.
Eggnog is called "coquito" in Puerto Rico, where rum is the liquor of choice. There, the drink has the added appeal of being made with fresh coconut juice or coconut milk. Mexican eggnog, known as "rompope", was created in the convent of Santa Clara in the state of Puebla. The basic recipe is augmented with a heavy dose of Mexican cinnamon and rum or grain alcohol, and the resulting drink is sipped as a liqueur. In Peru, holidays are celebrated with a "biblia con pisco", an eggnog made with pisco, a Peruvian brandy.
Canyon Ranch Holiday Eggnog
SpaFlyer says: Don't reach for prepared eggnog in the grocery store -- even if it's marked "lite." We find it's a nightmare of preservatives, sugar and additives. This recipe, whether you want a "lite" eggnog or not, is delicious. For those not avoiding alcohol, go ahead and add a splash of the real thing if you prefer.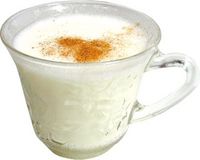 Courtesy of:
Canyon Ranch Spa
Ingredients
1 teaspoon cornstarch
3 egg yolks
5 tablespoons sugar
2 1/2 cups reduced fat milk
1/4 teaspoon nutmeg
Pinch cinnamon
1/4 teaspoon rum extract
1/2 teaspoon vanilla extract
Method
Combine cornstarch, egg yolks and 2 tablespoons sugar in a medium bowl.
Whisk with a wire whip until egg yolks are lemon colored.
Combine milk, 3 tablespoons sugar and nutmeg in a medium sauce pan.
Scald milk mixture, stirring occasionally. Slowly add hot milk to egg mixture, whisking constantly, using wire whip.
Pour back into sauce pan and continue to whisk 2 to 3 minutes over medium heat or until mixture thickens.
Remove from heat and transfer to an ice bath.
Add cinnamon and extracts.
Cool completely.
Serve in individual cups with a dash of cinnamon, nutmeg, or both.
By the Numbers
Serving size:
3/4 cup
| Cal:
170
| Fat (g):
5
| Carbs (g):
24
| Sodium (mg):
82
| Protein (g):
7
| Chol (mg):
152
With thanks to Canyon Ranch for the recipe; WhatsCookingAmerica.Net for historical information and background.
---
 

December 23, 2010 | Kitchens Spa Index Canyon Ranch