Canyon Ranch Oatmeal Cranberry Chocolate Chip Cookies
This recipe for America's favorite cookie is made healthier by Canyon Ranch. Oatmeal Cranberry Chocolate Chip cookies are a guest favorite.
Canyon Ranch Oatmeal Cranberry Chocolate Chip Cookies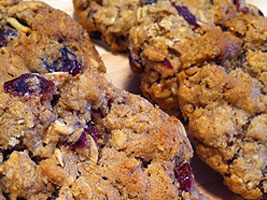 Ingredients
1/4 cup unsalted butter
1/3 cup low-fat cream cheese
1 cup firmly packed brown sugar (see note)
1 large egg yolk
3/4 teaspoon pure vanilla extract
1/2 cup oat flour
1 1/2 cups rolled oats
1/2 teaspoon baking soda
1/2 teaspoon aluminum-free baking powder
3/4 teaspoon ground cinnamon
1/2 teaspoon sea salt
1/3 cup firmly packed dried cranberries
1/3 cup semi-sweet chocolate chips
Method
Preheat oven to 350°. Lightly coat a baking sheet with canola oil.
In a large bowl, with an electric mixer on high speed, cream butter, cream cheese and brown sugar.
Turn mixer to low and add egg yolk and vanilla extract and mix until just combined.
Roughly chop dried cranberries. Combine oat flour, rolled oats, baking soda, cinnamon, salt, cranberries, and chocolate chips in a large bowl. Add to wet ingredients and mix on medium speed until thoroughly mixed.
Portion heaping teaspoonful of dough (or use a 3/4 ounce scoop) onto baking sheet about 1 1/2 inches apart and pat down to flatten slightly.
Bake for 10-12 minutes.
Notes
Try it with white chocolate chips, too!
By the Numbers
Serving size:
1
| Cal:
75
| Fat (g):
3
| Carbs (g):
12
| Sodium (mg):
15mg
| Fiber (g):
1
| Protein (g):
1
| Chol (mg):
15mg
---
February 20, 2014 | Kitchens Spa Index Canyon Ranch