Canyon Ranch Cold Pea Salad
This unique salad is wonderful for entertaining because it can be made ahead of time. In fact, we like it even better the day after it is made. Because it is so easy to serve it is perfect for buffet-style service, a delightful addition to holiday menus, and great for picnics and tailgate parties. — Canyon Ranch
Canyon Ranch Cold Pea Salad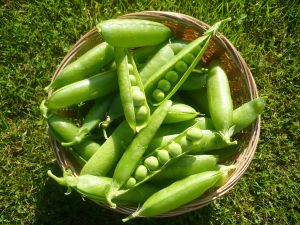 Ingredients
2 cups fresh or frozen green peas
1/3 cup light sour cream
1/3 cup non-fat plain yogurt
3/4 cup chopped scallions
1/4 teaspoon seasoned salt
Method
If using fresh peas, steam them until tender, but still firm. Remove from the heat and place the steamer basket under cold water to stop the cooking and preserve the color. If using frozen peas, which have already been slightly cooked, it is only necessary to thaw them.
Combine the sour cream, yogurt, scallions, and salt and mix well. Add the peas and gently fold them in until completely combined.
Cover tightly and refrigerate until cold before serving.
Notes
Makes 8 servings Each 1/3-cup serving contains approximately: Calories:41 Fat: negligible Cholesterol:1 mg Sodium:80 mg Carbohydrates:7 g Protein:3 g
---
 

August 19, 2014 | Spa Index Canyon Ranch