Cal a Vie Bloody Mary Gazpacho
This bright, colorful and savory dish is a classic chilled soup perfect for a warm Spring or Summer Spa Lunch.   Bloody Mary Gazpacho is zesty enough to waken the tongue, without the alcohol of the popular breakfast cocktail.  It was developed by Cal-a-Vie Spa's executive chef, Curtis Cooke, and is a guest favorite entree.  If you have a green thumb or access to a Farmer's Market, it is best with fresh picked summer tomatoes. 
Bloody Mary Gazpacho
A spa party sized recipe from Ca-a-Vie Spas Spring 2015 Newsletter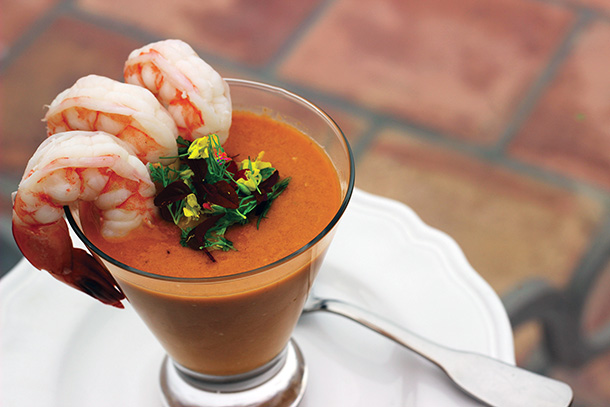 Courtesy of:
Executive Chef Curtis Cooke, Cal-a-Vie Health Spa
Ingredients
Soup Base
4 pounds Heirloom tomatoes (blanched, peeled, chopped)
1 pound cucumber, peeled, chopped
1/2 pound green bell pepper, seeded, chopped
3 finely chopped garlic cloves
1/4 cup sherry vinegar
2 tablespoon Worcestershire sauce
1 tablespoon sea salt
2 teaspoon celery seed
1 tablespoon Tabasco
3/4 cup extra virgin olive oil
For the Garnish
3 pounds (21-25) shrimp (peeled, deveined, cleaned)
1 lemon, juiced
Micro greens for garnish
Method
For the Base
In a high speed blender, combine all of the ingredients except for the olive oil and puree until very smooth.
While the blender is still running, slowly add the olive oil until completely incorporated.
For the Garnish
To prepare the shrimp, fill a large pot with 1 gallon of water, add a pinch of salt and squeeze in the juice of the lemon, and toss the lemon halves in the water for extra flavor.
Bring the water to a boil. Reduce heat to medium-low and add shrimp. Simmer, uncovered, for 5 minutes or until the shrimp are bright pink and the tails curl. Using a slotted spoon, remove the shrimp and chill thoroughly before serving.
Serve
Pour soup into chilled glasses, garnish with 1 shrimp each plus microgreens.
Notes
The nutritional stats are for 1 shrimp each for garnish, but of course, add 2-3 and adjust the numbers accordingly, for a more hearty serving. Serving idea: Reduce or omit the salt and celery seed in the recipe, and instead rim the glass! Circle the rim of the empty serving glass with a lemon wedge to moisten, dip in celery seed and salt, and fill with soup. Sip and savor!
By the Numbers
Serving size:
4 oz
| Cal:
103
| Fat (g):
7
| Carbs (g):
4
| Sugar (g):
1
| Fiber (g):
1
| Protein (g):
4
---
Cal-a-Vie bridges the gap between health resort and luxury spa with ease.  Its comprehensive nutritional services, including consultations with a registered dietician, as well as tests with a biochemistry focus.  The active exercise program includes more than 130 different classes ranging from activities from advanced (for the very fit) to transitional (for those beginning or returning to a fitness regime).    To this, add gourmet spa cuisine and therapeutic spa treatments and the majority of guests leave the resort having lost weight and gained healthy lifestyle changes.
---
May 27, 2015 | Spa Index Cal a Vie Recipes, Favorites, Seafood, Summer